This exciting graphic-novel series opener pits a fatherless boy and an adventurous home-schooling girl against aggressive garden vegetables.
Mighty Jack by Ben Hatke.  First Second, 2016, 205 pages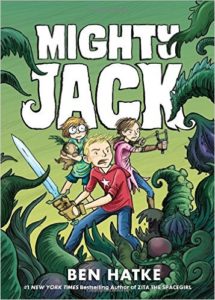 Reading Level: Middle grades, ages 8-10
Recommended for: ages 8-14
Jack is the man of the house ever since the age of three, when his dad left the family.  Jack's harried mom works two jobs and his sister Maddie appears to be autistic and mute. Jack is her caretaker while Mom's at work, and it looks like a long summer ahead.  But then, at a local swap meet, Jack and Mattie meet a sharp-eyed salesman who offers to swap a box of strangely marked seeds for the loan of his mother's car.  When Mattie tells Jack to buy the seeds (but she doesn't talk!) he's stunned enough to hand over the keys.  Mom is furious, but the car is later recovered—and in the meantime, why not plant the seeds?  In no time, onion babies, grabbing vines, and toothy pumpkins push out of the ground.  Something else appears—the neighbor girl Lilly, who's homeschooled and into swords and sorcery.  She's also bored, and ready to dare Jack into whatever adventure the garden offers.  But adventure means danger, and a home-grown dragon is a little more than Jack bargained for.  Lilly is incensed at his caution: "Everything is dangerous, Jack! Living is dangerous!"
But are dangerous things also evil?  When an unavoidable door opens, Jack and Lilly must walk through.  To be continued . . . this fall.  Wild action and fantastic garden beasts keep the pages turning, while thought-provoking dialogue promises some depth.
Cautions: Language (one "crap"), Visually disturbing (scary vegetables!)
Overall rating: 4.25 (out of 5)
Worldview/moral value: 4
Artistic value: 4.5
More than 75 books for children and teens, all about islands, oceans, and more. Bonus: get a free hand-drawn reading tracker!
Reading Ahead for You
Reviews and Resources Weekly in Your Inbox