This teen-oriented Bible combines study helps with creative elements like original photos, poems, and space for personal response.
NLT Live: Holy Bible.  Tyndale  Publishing House, 2008, 1376 pages.
Recommended for: teens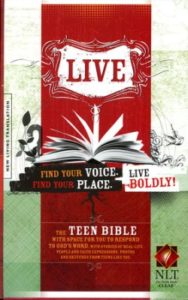 NLT Live isn't new but has somehow escaped my notice until now.  It's more a study than a devotional Bible, but includes interesting and unique features that encourage teens to "express themselves."  The study/application features include half-page book introductions, reading plans, and a concordance.  Within the text, "Real Questions" address perplexing issues like Why does God sometimes seem so far away? and Why do we need to ask forgiveness?  "Just like You" profiles heroes of faith in the Bible and in history, "Text Messages" are interesting facts, "Try This" poses life application challenges, and "Jesus Sightings" highlight passages in the Old Testament that point to Christ.  "7 Degrees of Jesus" features the voices of a varied and interesting company ranging from Sophocles to Flannery O'Connor to Bono.
Many of these features allow space for doodles, notes, questions, poems, or meditations.  The artsy photos and poems scattered throughout the text and in the full-color inserts supposedly act as inspiration.  To some teens, these will seem rather random, but to each his own.  I like the idea of encouraging response and some readers may benefit from seeing the art, quotes, and thoughts of others.  To other readers these may be more of a distraction.  It's an attractive package put together to appeal to a particular personality type.
Value: 4 (out of 5), for the right person
To browse our earlier reviews, click The Good Book under the Reviews tab, or type "Bible Reviews" in the search box on the right side of this page.  For a particular  translation, type "Bible Reviews" followed by the translation initials (NIV, NIrV, ESV, NKJV, etc).  Also see these helpful posts:
Comparison of Bible Translations
Choosing Your Child's First REAL Bible: Some Considerations

Talk amongst yourselves...