David Jeremiah's "Airship Genesis" children's outreach provides a platform for this NKJV Bible.
NKJV Airship Genesis Kids' Study Bible.  Thomas Nelson, 2016, 1504 pages
Recommended for: ages 6-10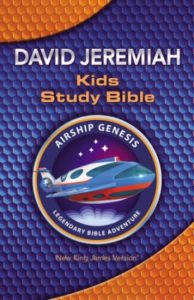 AirshipGenesis.com is the children's arm of David Jeremiah's Turning Point Ministries.  It features the futuristic "Genesis Exploration Squad": three boys, two girls, one robot and one monkey, who time-travel to Bible times to witness Bible events and draw lessons and morals from them.  The Airship Genesis Bible uses the same characters and a tekkie layout to guide kids through the Word, beginning with an introduction to what the Bible is all about (a one-page list of major themes), an introduction to each of the Exploration Squad members, and an index of study features.  Single-page book introductions offer a summary of each book with an "Airship Status Report" (author, date, number of chapters).  In-text features are fairly standard and in keeping with the theme: "Rupert Reports" (Rupert being the robot) are interesting Bible facts, "Power Force" applies doctrines and truths, "LOGOS Discovery" makes connections with other scriptures (always helpful), "Bible Blasts" are key verses to memorize, and "Bible Heroes" offers brief biographies.  Thirteen full-color in-text maps are an especially nice feature.  Full-color glossy inserts illustrate major Bible characters and stories.  Most pictures of Jesus are oblique, such as only a hand or only a back view.  The appendix includes a 58-page concordance.
The edition I saw has a readable 12-point text, though one Amazon reviewer complains that the text is small—perhaps referring to another edition.  The features seem helpful and accessible, and if kids like the exploration theme they can access the audio stories online, along with quizzes and puzzles. The useful life of such a tightly-themed Bible will be short, but parents can decide if its worthwhile from the sample pages available on websites like Amazon and ChristianBook.com.
Value: 3.5 (out of 5)
To browse our earlier reviews, click The Good Book under the Reviews tab, or type "Bible Reviews" in the search box on the right side of this page.  For a particular  translation, type "Bible Reviews" followed by the translation initials (NIV, NIrV, ESV, NKJV, etc).
Our Comparison of Bible Translation
Choosing Your Child's First REAL Bible: Some Considerations

Talk amongst yourselves...