Like the new Jesus Calling children's Bible, Love Letters from God is based on purported personal communications from the Almighty.
NIrV Love letters from God Holy Bible. Zonderkidz, 2016, 1248 pages
Recommended for: ages 6-10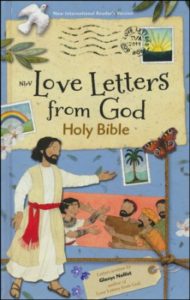 Glenys Nellist is the author of Love Letters from God, a devotional book I'm not familiar with. To judge by this Bible, though, Love Letters follows the first-person, direct-from-above passion of Jesus Calling. (Whatever becomes popular in the adult world will work its way down to kids in some form.) The 80 "letters" inserted throughout the text features themes such as courage, trust, faith, prayer. Each consists of a key verse, a message from "God," and a small space (not big enough for little hands) with suggestions for writing back. Full color glossy inserts consist of standard advice and information: the ten commandments, how to pray, the ABC's of salvation, etc. The appendix includes space for notes and five full-color maps. The color inserts include pictures of Jesus.
I have reservations about children's devotionals (see my concerns in "Quiet Time for Kids").  In a nutshell, I think it will benefit younger children to know more about the Bible–what it's about, how it was written, why it's reliable–before having guided personal encounters with it. Certainly we want to assure our children of God's love and care for them, and his desire to have a relationship with them, but some of these "love letters" come off as too too—for example, "God" signs off on one letter with "I adore you." Shouldn't it be the other way around? Some children do seem to develop a personal relationship with God early in life, but for most this will seem like a grab for their emotions before their emotions are allowed to develop more naturally.
Value: 2.5 (out of 5)

To browse our earlier reviews, click The Good Book under the Reviews tab, or type "Bible Reviews" in the search box on the right side of this page.  For a particular  translation, type "Bible Reviews" followed by the translation initials (NIV, NIrV, ESV, NKJV, etc).  Also see these helpful posts:
Our Comparison of Bible Translation
Choosing Your Child's First REAL Bible: Some Considerations
Talk amongst yourselves...