Sarah Young's devotionals for children are scattered throughout this ICB (International Children's Bible) version.
ICB Jesus Calling Bible for Children: with Devotions by Sarah Young. Tommy Nelson, 2017, 1472 pages.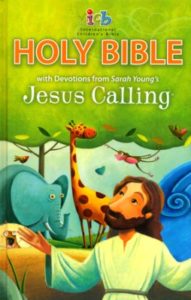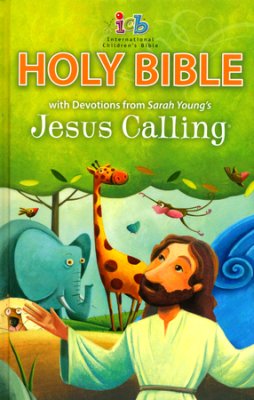 Recommended for: ages 6-10
The subtitle says it all: if you like Sarah Young's direct-from-Jesus devotional style, you'll like this Bible; otherwise not. In her introduction she writes, "The devotionals are written as if Jesus is speaking right to you . . . I wrote the devotionals this way to help you know that Jesus is with you all the time and wants to be your best friend." Some of the major themes of the Bible are stated as, "How amazing is God love for us," "Jesus, our best friend," "How to live a great life," "Knowing right from wrong," and "Asking God to forgive us for wrong choices." Each one-page devotional includes a meditation, a short prayer, and an application. About 22 four-page color inserts are scattered throughout the text at regular intervals; these feature well-known Bible stories, with pictures (many pictures of Jesus), a key verse, and a "Jesus Calling moment." There are no book introductions to provide context. The appendix includes a dictionary, key verses to learn, a story index, promise verses, and four maps.
Much has been written about the problems with Sarah Young's approach, in particular the presumption of speaking for God and dwelling on his immanence at the cost of his transcendence.  Besides that, I find her devotionals repetitive, unchallenging, and very much reader-centered. Her devotional book for children is reviewed here.
Value: 2.5 (out of 5)

To browse our earlier reviews, click The Good Book under the Reviews tab, or type "Bible Reviews" in the search box on the right side of this page.  For a particular  translation, type "Bible Reviews" followed by the translation initials (NIV, NIrV, ESV, NKJV, etc).  Also see these helpful posts:
Our Comparison of Bible Translation
More than 75 books for children and teens, all about islands, oceans, and more. Bonus: get a free hand-drawn reading tracker!
Reading Ahead for You
Reviews and Resources Weekly in Your Inbox