A delightfully diverse collection of "tales" written and illustrated by a group of authors and illustrators who are themselves fans of the Wingfeather Saga!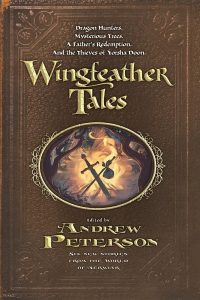 *Wingfeather Tales (The Wingfeather Saga) edited by Andrew Peterson. Rabbit Room, 2016. 339 pages.
Reading Level: Ages 12-15
Recommended For: Ages 10 and up, especially fans of the Wingfeather Saga
Imagine if a group of professional authors and illustrators were so enamored with Lewis's Narnia that they each created a unique new story–not an addition the Narnia canon, but an expansion of the elements already present. Someone might write a humorous story of Mr. and Mrs. Beaver falling in love. Someone else might write a fiercesome story about Caspian IX's betrayal by his brother, Miraz. Or what about a story about those funny Dufflepods and their original transformation to Dufflepods? Now imagine that Tolkien wrote one of those stories and inserted a hobbit into his Narnia story. And that all these authors and illustrators are the Inklings and actually know one another.
That is exactly what the Wingfeather Tales is: a collection of literary works (4 stories, 1 ballad, 1 novella) each written by a different author and each illustrated by a different illustrator, all of whom are familiar with each other's work. Andrew Peterson wrote one of the stories, but the other authors clearly love and understand Peterson's country of Aeriwar nearly as much as Peterson himself. And they expand on our understanding of that country much like our grandfather telling us a funny story about our grandmother expands our understanding of who she is. Tales range from the very humorous "Wooing of Sophelia Stupe" (my personal favorite) to a ballad of two cousins to an exciting story of young Podo Helmer in his dragon hunting days to a thrilling adventure story of thieves and betrayal to a possible connection with the 100 Cupboards to a poignant and meaty story of a father seeking to right a serious wrong. And do make sure to read the introduction!  Jennifer Trafton, ND Wilson, Jonathan Rogers, A.S. Peterson, and Douglas McKelvey each bring their talents to bear in their unique styles, and fans of their other literary works will recognize their authorial "voices" (and even a raggant or two!). Illustrators include Doug TenNapel, Aeden Peterson (Andrew's son), Justin Gerard, John Hendrix, Joe Sutphin, Cory Godbey, and Nicholas Kole.
The reading level and tone of some of these "tales" is a touch older and more complex the Wingfeather Saga itself which makes this a lovely book for teens (and adult family members) who've already read and enjoyed the original saga. If you're just getting started with the Wingfeathers, save this one for the end.
Cautions: Violence (the Fangs are at it again)
Overall Rating: 5
Artistic Rating: 5
Worldview Rating: 4.75
Many of these authors and illustrators are part of the Rabbit Room fellowship–check them out! And, for fans of the series, check out the official Wingfeather Saga blog! 
Talk amongst yourselves...