A childlike and joyful retelling of the Christmas promise we have in Christ, perfect for the young at heart. This title is part of our Winter Book Fair 2016.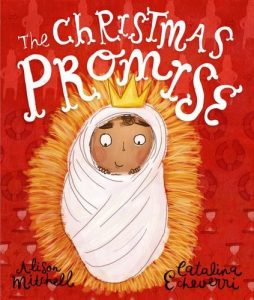 The Christmas Promise by Alison Mitchell and illustrated by Catalina Echeverri. The Good Book Company, 2014. 32 pages.
This retelling of the classic Christmas narrative emphasizes the kingliness of the Savior who was born to fulfill God's promise. This baby, who is not identified until the last page, is "a NEW KING; a RESCUING KING; a FOREVER KING!" Without deviating from the Biblical account, it has read-aloud appeal. The angels WHOOSH into the scene and the shepherds are excited. Although it is not over-dramatized, such simple expressions convey the surprise and action of the characters.
Echeverri's bright, childlike illustrations are lively and expressive. (I love noticing how many people are barefoot in this series and leave their shoes lying around.) Jesus is portrayed in His humanity, and although the picturebook concludes by identifying this new, rescuing, and forever king, the final illustration hints at the later work and ministry of Christ.
This simple, accurate, appealing version of the Christmas story will be welcome in homes with hearts that are preparing room for the newborn King.
Cautions: none
Overall Rating: 4.5 (out of 5)
Worldview Rating: 5
Artistic Rating: 4
More than 75 books for children and teens, all about islands, oceans, and more. Bonus: get a free hand-drawn reading tracker!
Reading Ahead for You
Reviews and Resources Weekly in Your Inbox