a popular post from our archives!
Christmas is coming! And with it, lots of potential travel time…in the car…all together now….
If you're a screen-free-whilst-driving kind of family like my own, sometimes it can be a challenge to figure out how to entertain folks and maintain peace, especially if there are presents squished in around youngsters, it's cold and dreary outside, and there's a long wagon car ride ahead.
Enter: audio books.
Audio books are a fantastic way to while away the long hours in a car. There's a difference between audio books and dramatized books, remember. Audio books are the entire book narrated by a single narrator. Occasionally, there's a cast for some of the voices, but there is still a narrator. Dramatized books, by contrast, feature a cast of characters, sound effects, and often little to no narration. Megan will touch on why these differences are important tomorrow; suffice it to say, with one exception, I'm referring here to narrated, full length texts.
It can be a challenge to find a book that various age levels can all enjoy listening to. Dad might be into complex fantasy. 11-year-old daughter wants something "sweet" and heartwarming. 8-year-old daughter is into horses and/or American Girl stories. 6-year-old son wants something with humor, the sillier the better–and no kissing! And so it goes.
Look for the classics, my friends! These books are harder to read for today's text-bite kids than ever before because of their long sentence structure and challenging vocabulary. But in the voice of a gifted narrator, they come alive. Lots of action, romance, and great adventure take place. Bonus: there are often good character-building lessons to discuss, too. Fantasy, for those families who enjoy it, is another good direction. Even dads who don't want to revisit Winnie-the-Pooh often enjoy the likes of Harry Potter. Here are a few of our recent audio book faves, all but the Narnia Chronicles and Lord of the Rings from our local library:
The Collected Stories of Winnie-the-Pooh by A. A. Milne and narrated by Stephen Fry, Judi Dench, Geoffrey Palmer, Jane Horrocks, and Michael Williams.  Age/interest level: 3 and up. Approx. 4 1/2 hours.
This is a wonderful introduction to the world of Pooh for young listeners. Not a dramatization, but a narration with extra voices, the cast does a gentle, but effective job of bringing to life Pooh and his friends. And don't forget: even elementary aged listeners and up can enjoy the antics of this iconic group of friends.
The Black Stallion by Walter Farley and narrated by Frank Muller. Age/interest level: 5 and up. Approx. 5 1/4 hours.
When the horse phase hits your 8-year-old daughter, don't despair. Here's a horse story the whole family will enjoy hearing. A shipwreck starts us off, followed by deserted-island-survival, rescue, and then lots of hard work training a future racehorse. An entertaining read/listen as well as instructive one, give this one a try. Note: Marguerite Henry's horse books are also an excellent "listen" and work for boys/girls, too.
The Borrowers by Mary Norton and narrated by Rowena Cooper. Age/interest level: 5 and up. Approx. 4 hours/book.
One of my favorite series when I was a kid, this has been a fun way to re-enter the world of Pod, Homily, and Arriette in the able voice of Rowena Cooper. The Borrowers are little, tiny people who live in various out-of-the-way places in a large house and "borrow" (steal/repurpose) items from the regular-sized folk into usable items for their own tiny selves.
Treasure Island by Robert Louis Stevenson and narrated by Alfred Molina. Age/interest level: 6 and up. Approx. 7 hours.
This classic swashbuckling adventure tale is well narrated by Molina who manages to give each character a slightly different British accent. Younger children may need occasional pauses for further explanation, especially if they aren't familiar with British sailing terms and the like. But the adventurous tone carries the story, and all will enjoy this tale. [Note: if you have sensitive young ears, you may wish to wait on this tale; remember–pirates are a bit blood-thirsty!]
Heidi by Joanna Spyri and narrated by John McDonough. Age/interest level: 6 and up. 10 hours, 45 min.
McDonough is a very prolific narrator, so his voice may be familiar to you. Heidi comes packed with all sorts of discussion-starters along with its heartwarming story of Clara, the girl who couldn't walk, and Heidi, the orphan living in the Alps with her grandfather.
Henry Huggins by Beverly Cleary and narrated by Neil Patrick Harris. Age/interest level: 4 and up. Approx. 4 hours.
Not a classic in the same sense, perhaps, but this book is a delight to listen to! Harris manages to imbue each character with a distinct voice, and this classic Cleary tale will have both parents and children chuckling over Henry's guppies, his entrepreneurial night-crawler adventure, and his dog Ribsy. This is an especially good choice for young boys who get a bit squirmy with longer books like Heidi.
Little House on the Prairie series by Laura Ingalls Wilder and narrated by Cherry Jones. Age/interest level: 4 and up.
The Little House in the Big Woods is the logical place to start, and it is indeed full of fascinating vignettes. But Farmer Boy also works well as a stand alone. Both are great choices for younger listeners. Cherry Jones does a terrific job of bringing familiar stories back to life for grown-up readers even as younger readers are hearing them for the first time.
Harry Potter series by J. K. Rowling and narrated by Jim Dale. Age/interest level: 10 and up.
Audio books can be more "present" for the listeners than an independent reading experience. You are the best judge of your child's maturity. The Harry Potter books can be intense in later books. Dale is a truly gifted narrator and delivers a gripping performance in these books. That can work to make a long trip fly by, but it can also frighten a sensitive young listener. But for those with middle and high school students looking for a way to pass the time to Grandma's, definitely consider this series! **Please note: Christian families have very different opinions on Harry Potter (even the RR staff has mixed opinions). This is not a blanket recommendation, but one family's list of audiobook favorites.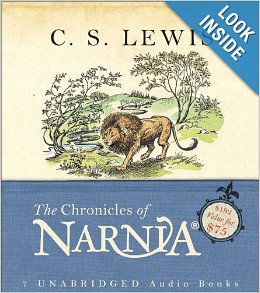 The Narnia Chronicles by C. S. Lewis and narrated by various British actors/actresses (Kenneth Branagh, Lynn Redgrave, Jeremy Northram, etc.). Age/interest level: 5 and up. 
Don't make the mistake of listening to these when your children are much younger than 5 and then assuming they know the stories! Narnia is more complex that it first seems, and the familiar stories take more than round of exposure. This is one set we own and turn to again and again when we have a trip coming up and want to revisit Narnia. Narration is outstanding. I've linked to this set below on Amazon… Christmas is coming! This set would make a terrific family gift.
The Lord of the Rings by J. R. R. Tolkien and produced by the BBC (performers include Ian Holm and Robert Stevens). Age/interest level: 8 and up. Approx. 13 hours long.
OK, I lied. This is a dramatization. One of the very few exceptions in my audio book world. Alas, I only have the cassettes, and the CD's are prohibitively expensive. But this is truly worth seeking out. And, if you are one of the lucky folks who own this version, please share with your friends and neighbors! My copy has traveled the continent several times in the tape decks of my friends' cars (back when there were tape decks in my friends' cars…).
Note: not all of these versions are available to buy anymore, but many of them are at your local library or, if you are an Audible.com member, many are available on there as well.
And it's your turn! What are some of YOUR family's favorite audio book experiences? Megan will be discussing dramatizations a bit tomorrow, so stay tuned.
In the meantime, check out our previous Winter Audiobooks post and you can search our entire lineup of audiobook-related posts as well. Cover images from goodreads, library website, and amazon.

Talk amongst yourselves...