This dystopian fantasy series (with steampunk overtones) kicks off with a fabulous mechanical flying beast and two intrepid teens.
Fires of Invention (Mysteries of Cove #1) by Scott Savage.  Shadow Mountain, 2015, 311 pages.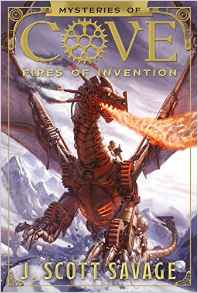 Reading Level: middle grades, ages 10-12
Recommended for: ages 10-15, especially boys
Cove is a city built inside a mountain; all that's left of a civilization after technology ruined everything.  In Cove, Creativity and invention are dirty words and everything made must be approved. Trenton, age 14 and a natural mechanic, resents being assigned to agriculture, but when he meets Kallista Babbage (14) creative sparks fly.  He's discovered a cylinder that can only be opened with a special tool, and she has the tool—clue #1.  Other clues follow, all left by Kallista's inventor father who has disappeared and is presumed dead.  Whether Leo Babbage is at large or deceased, the daring duo are set on a collision course between discovery and extreme danger.
The story starts out something like The Giver but takes a sharp turn with the introduction of Kallista's missing father, who seems almost godlike in his providential care.  The trail of clues he left hangs on a delicate balance of coincidence that requires much suspension of disbelief—if the danger posed to the settlement at Cove was so real and great, a concerned parent wouldn't be so cryptic.  But Trenton and Kallista make a good team, each with relatable rough edges that come in for a little sanding.  The plot delves into much mechanical detail (notice especially the clever chapter headings) that will engage technically-oriented readers, and for the rest of us the conclusion is a thriller.  The genre straddles the line between dystopia and fantasy because (small spoiler) there be dragons.
Volume #2 in the series, Gears of Revolution, is reviewed here.
Cautions: Mythical violence (dragon destruction)
Overall Rating: 3.75 (out of 5)
Worldview/moral value: 4
Artistic value: 3.5
More than 75 books for children and teens, all about islands, oceans, and more. Bonus: get a free hand-drawn reading tracker!
Reading Ahead for You
Reviews and Resources Weekly in Your Inbox