We've spent all month reading and learning about church history. It's been such a rich study with interviews and book reviews, but we are not the only ones who care about reading church history! We've asked some folks to contribute to our study with their top 5 church history recommendations for all ages. Check out these fantastic resources for all ages below. See also our longer interviews with Brian Cosby and Tim Challies for their recommendations as well.
Titles are linked to Redeemed Reader reviews where applicable. If a title is not linked to an RR review, then we have not read/evaluated it. As always, be discerning and do your research. We are looking forward to exploring some of these titles ourselves!
Emily Whitten, Co-Founder of Redeemed Reader
We've asked Emily for her top church history recommendations based on her years of reading and reviewing books for kids!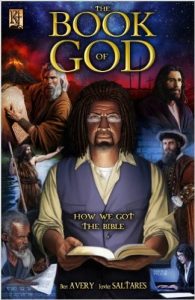 Church History 101 by Sinclair Ferguson (a survey; for teens and adults)
The Book of God by Ben Avery and Javier Saltares (graphic novel history of the Bible for teens and adults)
Martin Luther, a Man Who Changed the World by Paul Maier (biography for kids ages 8-12)
Eric Liddell: Are You Ready? by Catherine Mackenzie (picture book for ages 4-8)
In the Fear of the Spear by Marianne Hering (Emily's favorite series! the Imagination Station books have lots of titles related to biblical and early church history)
Ernest Grant II, Pastor 
Ernest Grant II is a pastor at Epiphany Fellowship Church in Camden and a contributor to the Reformed African American Network. *Note: we specifically asked Ernest for resources about the role of the early church in Africa–thanks, Ernest, for helping us find out more about the early church in Africa!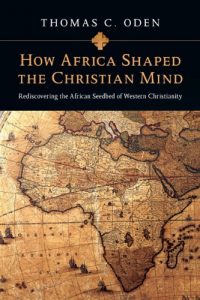 How Africa Shaped the Christian Mind by Thomas Oden
How Black is the Gospel? by Tom Skinner
We Have Been Believers: An African-American Systematic Theology by James H. Evans, Jr. and Stephen G. Ray, Jr
Mystie Winkler of Simply Convivial
Mystie is a homeschool mom of five who blogs about homeschooling and life at Simply Convivial. Thanks, Mystie, for sharing your recommendations with us!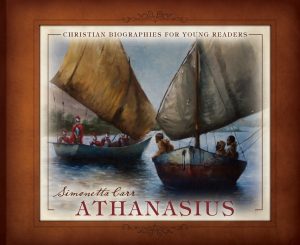 All the picture book biographies of church history heroes by Simonetta Carr are well written and gorgeously illustrated. She makes the stories compelling for young listeners and independent readers alike. These are perfect books for strewing as well as adding to the read-aloud stack.
Matt Smethurst of The Gospel Coalition
Matt is Managing Editor of The Gospel Coalition. Thanks, Matt, for sharing your recommendations with us!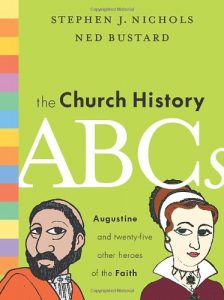 Church History ABCs: Augustine and 25 Other Heroes of the Faith by Stephen Nichols and Ned Bustard (Crossway, 2010; picture book). "An excellent resource for families."
Christian Biographies for Young Readers series by Simonetta Carr. "I love this series of biographies for children and young adults. Carr has written volumes on Athanasius, Augustine, Anselm, John Calvin, John Knox, Lady Jane Grey, John Owen, Jonathan Edwards, and Marie Durand."  (picture books)
The Unquenchable Flame: Discovering the Heart of the Reformation by Michael Reeves (B&H Academic, 2010). "A fine introduction to and overview of the Protestant Reformation."
A Quest for Godliness: The Puritan Vision of the Christian Life by J.I. Packer (Crossway, 2010). "Packer provides an on-ramp into the world of the Puritans and their writings–one of the richest worlds you'll ever explore."
Letters of John Newton by John Newton (Banner of Truth, 2007). "Some of the most devotionally rich writing you will ever read."
Christina Fox, author and blogger 
The Church History ABCs by Stephen Nichols and Ned Bustard. (picture book)
The Barber Who Wanted to Pray by R. C. Sproul (picture book)
Guarding the Treasure by Linda Finlayson (middle grades)
Trial and Triumph by Richard Hannula (middle grades)
Ten Boys Who Made a Difference by Irene Howat (middle grades)
Ten Girls Who Made a Difference by Irene Howat (middle grades)
Hero Tales: A Family Treasury of True Stories from the Lives of Christian Heroes by Dave and Neta Jackson (middle grades)
John Calvin: After Darkness Light by Catherine McKenzie (elementary)
Peril and Peace by Brandon and Mindy Withrow (middle grades)
David Lovi, Pastor
David Lovi is a pastor and also serves on the board of the Martin Lloyd-Jones Trust. Thanks, David, for sharing your recommendations with us!
The Story of Christianity by Justo Gonzalez
The Calvinistic Methodist Fathers of Wales by John Morgan Jones and Henry Morgan
The Memoirs and Remains of Robert Murray MCheyne by Andrew Bonar
Jonathan Edwards: A Life by George Marsden
Here I Stand: A Life of Martin Luther by Roland Bainton
And Now It's YOUR Turn!
What are some of your favorite church history resources, especially for kids and teens, that we missed? We paid scant attention to the Reformation and more modern church history this year since next year is the 500th anniversary of the Reformation (don't worry, we plan to cover it!). In the meantime, if you have church history recommendations pre-, mid-, or post- Reformation, don't hesitate to send them our way. Church history isn't limited to one month of the year!
More than 75 books for children and teens, all about islands, oceans, and more. Bonus: get a free hand-drawn reading tracker!
Reading Ahead for You
Reviews and Resources Weekly in Your Inbox