A new "life of Jesus" picture book presents the Son of God as compelling and dynamic in word and deed.
*Miracle Man: the Story of Jesus by John Hendrix.  Abrams, 2016, 40 pages.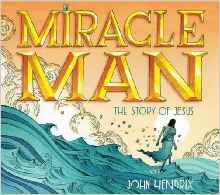 Reading Level: Picture Book, ages 4-8
Recommended for: all ages
The wildly popular Jesus Storybook Bible related the entire Bible narrative to the promised Son of God and his work.  This standard-size picture book, published by a traditional (i.e., secular) publishing house, takes a much narrower focus, but the impact is similar.  The result is beautiful, not just in style but in content.  In the "Author Note" John Hendrix identifies himself: "At a very young age, I fell in love with the Miracle Man.  To this day, merely reading his words in the simple clarity of the Gospel story can stir my soul."  While he takes a few factual liberties with the text (the boy with the five loaves & two fishes, for example, is identified as a girl), he's true to the spirit.  All dialogue is rendered by hand, often creatively integrating with the pictures.  Jesus is not quoted directly but in a very loose paraphrase that often incorporates deeper meaning.  After calming the storm, for instance, he says, "I am the son of the Living God who made the water and the winds.  Did you forget who was in your boat?"  Or, to the disciple who failed the water test: "Peter, have faith in my feet, not your own."
The Miracle Man is also pictured in ragged clothes.  While this is likely an exaggeration (given the number of women in his entourage, his clothes were probably decent, though plain), I appreciate that he's not in a pure white robe with a red sash–that is, not until he walks out of that tomb.  This is a man of the people, mingling, touching, preaching, healing.  Covenant children should enjoy seeing him "in a new way," as the author says in his afterword, and I pray that children who don't know him may begin a relationship through this book.
Cautions: None
Overall rating: 5 (out of 5)
Worldview/moral value: 5
Artistic value: 5
Support our writers and help keep Redeemed Reader ad-free.