A funny, chapter book mystery for newly independent readers!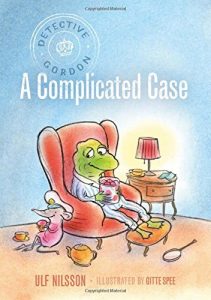 A Complicated Case (Detective Gordon) by Ulf Nillson and illustrated by Gittee Spee. Gecko Press, 2016. 96 pages.
Reading Level: Ages 8-10
Recommended For: Ages 5 and up (new readers and as a read aloud)
Someone is spreading unhappiness amongst the forest inhabitants and saying nasty things. Not to worry! Detective Gordon is on the case. Gordon loves nothing more than eating cakes and napping, but he's determined to solve the case threatening the peace of his beloved neighborhood. His mouse-assistant, Buffy, does more than her fair share of work in her eagerness to prove herself to Detective Gordon. Gordon and Buffy finally manage to track down the bullies through their intelligent sleuthing aided by tasty peace offerings and their clever disguises.
Full of quirky, subtle humor, this Swedish import is a delight to read, both for newly independent readers and as a fun family or classroom read aloud. The friendship between Gordon and Buffy is similar to many early chapter book pairs: while different from one another, they support each other and genuinely care for the other. Interestingly, there's even reference to the "Book of the Law" with the implication that the law is written inside us. The author doesn't take this reference any further, but it's a perfect jumping off point for discussion with your young readers!
Cautions: none
Overall Rating: 4.5
Worldview Rating: 4.5
Artistic Rating: 4.5
Support our writers and help keep Redeemed Reader ad-free.