A schizophrenic teen embarks on a quest for self-discovery and truth that becomes a struggle for survival.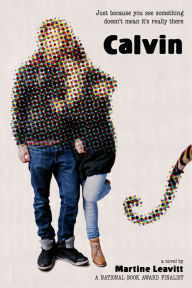 Calvin by Martine Leavitt.  Farrar Strauss and Giroux, 2016, 181 pages
Reading Level: Teen, ages 12-15
Recommended for: ages 13-up
In the middle of a high-achieving high school career, Calvin slides off reality and ends up in a hospital emergency room.  What happened?  Hobbes showed up.  Strange as it may seem, the stuffed tiger Mom washed to death when Calvin was a kid is now talking to him.  Only one thing will get this tiger off his back: Calvin (who lives in Canada) must walk across frozen Lake Erie to meet Bill Watterson on the Cleveland lakefront.  Bill Watterson—of course!—is the reclusive creator of the Calvin & Hobbes comic strip, who has not drawn a line for public consumption since the strip closed down in the mid-90s.  If Bill will draw one final cartoon of his Calvin, without Hobbes in it, the real Calvin will then be free to go on with his life.  Or will he?
This is a philosophical novel for teens who are just starting to think about stuff—or should be.  What's life about? What is love?  What matters?
I've figured out there's a difference between the meaning of the word real and the meaning of the word true.  Reality is all the stuff that won't go away, like school and gravity . . . It's the ceiling your imagination bumps up against.  People with my condition just keep floating on up as if there weren't any ceiling, with every so often a few hard falls and then more floating.

But true doesn't float.  It just is.
Discuss among yourselves.  Calvin luckily has a discussion partner–Susie, the girl next door whom he's in love with even though she's dating a jerk.  She joins him on the epic journey across Lake Erie, where they encounter a hermit, a car lot, and a village of ice fishermen.  They also push the limits of survival (and survive).  Calvin is billed as a "sympathetic portrait of schizophrenia," but it's much more than that: a fresh look at age-old questions.  Readers won't find answers for those questions, and those looking for an action-packed narrative won't find that either, but spending some quality time with Calvin could encourage them to start wondering.
Cautions: None (Calvin and Susie spend a couple of nights together on the ice, but it's purely platonic)
Overall rating: 4.75 (out of 5)
Worldview/morality value: 4.5
Artistic value: 5
Talk amongst yourselves...