Not a "Newbery Buzz" post because these titles were published before 2016 and are already award winners! But, for similar posts in which Janie and Betsy discuss books, check out our Newbery Buzz series.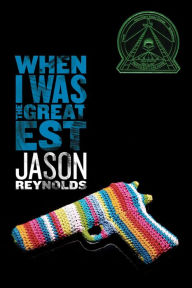 Janie: Earlier this week, we reviewed two novels about what might be called "the black experience."  One of them, When I Was the Greatest, explores the pitfalls and temptations in the path of an African American teen growing up in a rough part of Brooklyn.  The other novel, All American Boys, told from alternating viewpoints, portrays a community in turmoil from an incident involving a white cop using undue force on a black teen.   Both books come with significant cautions, especially regarding language and, in the case of the former, some sexual content.  So why bother to even read, much less review them?
I'll go first, and talk briefly about When I was the Greatest.  I was prepared not to like this book, but since it was getting stellar reviews, besides winning the Coretta Scott King Award for New Voices in 2014, it was worth a look.  I ended up liking it a lot, for several reasons.  First, it opens up a world to white Midwestern readers that we're unlikely to encounter otherwise: the daily life and rhythms of an inner-city, racially homogenous neighborhood.  Not all characters are admirable, but almost all are sympathetic, in that we can recognize in them the common humanity we all share even though our circumstances and values (to use an overused word) are different.   Second, as the main character is a decent kid who makes some unwise choices, the novel helps young readers understand the subtlety of temptation as it works its deceitful wiles.  Finally, it shows how vital family is to shaping character, even if the family is incomplete.  The dynamic between two functionally orphaned brothers forms a major plot thread, as these kids learn forgiveness and acceptance from the family that adopts them.
What do you see as the primary benefit of reading All American Boys, Betsy?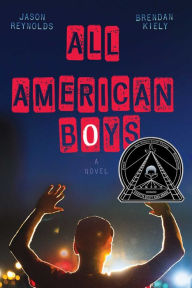 Betsy: It was an interesting experience for me on several levels, Janie. I think the biggest takeaway is simply the reminder that the people around us, regardless of what they look like, are all individuals with unique life stories and made in the image of God. We are all sinners before God, and therefore, we are equally depraved apart from Christ. All American Boys does a pretty good job of showing this, although I think the book itself draws the reader in to commit the same sin of misjudgment: our first "meeting" with the white cop, Paul, is when he's beating up Rashad (the black narrator). As the story progresses, we find out that Paul has been a pretty admirable young man, but by this point, we're only seeing that through Quinn's (the white narrator's) newly jaded eyes. It's worth thinking through how our childhood heroes are flawed people, but perhaps readers could have had the benefit of meeting the cop on more neutral ground first.
The novel is agenda driven, in that it clearly means to rile readers up about the many injustices we've seen in the news recently towards young black man. While we should absolutely be grieving those injustices, the scenario provided in All American Boys is not entirely typical. There are many noteworthy cops, and the recent violence in Dallas and New Orleans reminds us that it's worth celebrating the good cops as much as the innocent victims of unnecessary police brutality. Still, I appreciated how the authors of All American Boys really challenge kids to think about justice, about situations that are clouded in uncertainty, about what mercy might look like, and when it's appropriate to stand up for what you believe. The novel also subtly reinforces the importance of a stable family, father figures especially. It's gritty, no doubt, but it offers much to talk about and does more question-asking than answer-providing.
I know you had some thoughts about the way the novel portrayed police brutality. What were the biggest issues?
Janie: Well, it's obviously a very touchy subject.  I'm aware of my limitations in speaking to it because I'm not of the victimized class.  How many of us (i.e., middle-class white folks) have close black friends we can ask about this?  I'm ashamed to say I do not.  And yet, I think the novel stacks the deck in favor of its agenda, even though it's a well-told, powerful story with a strong and moving conclusion.  But here's where the agenda comes in: 1) the motive behind all police overreaction is clearly implied to be racism; even Rashad's dad (a former cop) is guilty of it.  All the "offending" blacks are innocent, and undoubtedly that's true in some cases.  But not in most.  2) The statistics are misleading, as when one of Quinn's teacher's writes a comparison on the board about cops in the UK vs. cops in the US: an oranges/apples comparison.  Also, she writes how many unarmed blacks are killed by police, but says nothing about how many whites are killed by police, and makes no distinction whether the cops sincerely believed the victim was armed or not.  "The numbers don't lie, kids," she says.  But sometimes they do.  3) The cover clearly represents Michael Brown's "hands up, don't shoot" posture, when that detail of the Ferguson incident has been disproved.
Rashad is decent boy from a stable family, but the vast majority of black men who get in trouble come from dysfunctional and/or fatherless homes.  It's no crime to be born to a single mom; I respect those kids who succeed in spite of their unfortunate origins, and the mothers who struggle to raise them right, like Doris in When I Was the Greatest.  But these kids started out with a huge strike against them, and we have to ask ourselves honestly: are the high crime stats in that community due mostly to systemic racism, or to family breakdown?  Or is the first the cause of the second, or vice versa?
The novel did make me question my assumptions, and that's a good thing.  Are there any ways you were personally convicted by All American Boys, Betsy?
Betsy: You know, Janie, I tend to extrapolate most books out to their broad themes, perhaps after years as a middle and high school English teacher. To that end, what jumped out at me—was most convicting—from All American Boys was the challenge to look at my own heart to see where I, too, harbor any latent racism I'm not even aware of (much like Quinn discovers in the book). But the broader thematic elements are those I alluded to earlier about justice in general, mercy in general, and walking humbly with our God (Micah 6:8)—regardless of the racial or socioeconomic issues at hand.
And I think that's the direction I'd go if I were to discuss this book with one of my former classrooms. Racism comes up in many of the Western canon titles (Othello, To Kill a Mockingbird, etc.), but it's rare to see racism portrayed as the subtle, unconscious reactions from people like Quinn who genuinely want to do the right thing. And we can all examine where we see our own attempts, or lack thereof, to pursue true justice, to love mercy, and to walk in humility with the Lord. Middle and high school kids are notorious for jumping to conclusions, being rather unmerciful to people different from them, and being either externally proud or quite insecure (another form of pride since you are convinced the world is looking at YOU). It's also a terrific title to help us explore our reactions to the current unrest in our society. It would be worthwhile to look up more accurate statistics, to interview local cops about their experiences and reactions, and to examine our own friendships: are we sticking to "our own kind" (whether that's a racial divide, a socioeconomic one, or even a traditional click) or are we trying to look at each person we come across as an image bearer?
What about you, Janie? What was convicting for you about either of the titles you read? Which one would you hope teens would read and talk about?
Janie: I think both are beneficial, for different reasons.  When I Was the Greatest gives us a look inside a culture that's closed to most of us, an encouraging view of how African Americans can work out their own problems (racism isn't much of an issue).  All American Boys is specifically about race relationships and how to make them better.  That's a big plus: it ends on a hopeful note.
I'll just reiterate that the language, especially in All American Boys, will be a problem for many Christian families.  Both Rashad and Quinn, and their friends, make frequent use of f-bombs and profanity.  While this is realistic (and more's the pity), it will get in the way of the benefits of the story.  It could have been tamped down with no softening of the impact.