Three 10-year-old girls cope with life's ups and downs by learning to rely on each other, in a story with "magical" elements.
Raymie Nightingale by Kate DiCamillo.  Candlewick, 2016, 263 pages
Reading Level: Middle grades, ages 8-10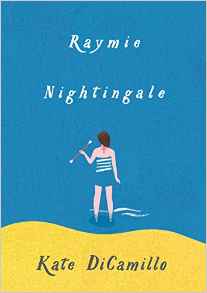 Recommended for: ages 8-12
Raymie Clarke, age 10, has one goal: by winning the Little Miss Central Florida Tire pageant, she'll become a person admirable enough to lure her father back after he ran away with the dental hygienist.  At the home of her baton-twirling instructor, Raymie meets fellow competitor Louisiana Elefante, who's in it for the money—winning the competition will give her and her grandmother enough money to eat for a year, so they won't have to keep stealing tuna fish.  As for Beverly Tapinski, she's not in to win but to sabotage the contest and spite her mother, a former baton champion turned bitter divorcee. For these three the world is off-balance, and they can begin to find their footing only by leaning together.  According to the jacket copy, theirs will become "a friendship that changed their lives."
A new book from DiCamillo is almost sure to be followed by starred reviews like a string of baby ducklings, and this one is no exception. It bears certain DiCamillo distinctives: quirky secondary characters, striking observations of everyday life, repeated themes, and unusual juxtapositions.  Like the best fiction, it asks good questions and doesn't roll out definitive answers.  The main question, specifically stated in the text: What are we here for?  The answer—or I should say suggested answer–is offered by Mr. Staphopoulos, Raymie's life-saving coach: "We must help each other.  Let us be problem-solvers together."  Raymie's early attempts at problem-solving fall flat, making her feel even more of a failure, but at the end life offers a chance to step up and help in dramatic fashion.  Though classified as realistic fiction, the author includes far-fetched story details that border on magical realism.  She also sees "magical" dimensions in the ordinary world that hint at meaning beyond the material, and reality beyond the real–see especially her use of light.  However, the three main characters may be difficult to relate to (Raymie too passive, Lou too dreamy, Beverly too angry), and the story may appeal to more adults than kids.
Cautions: Immoral actions overlooked in the main characters, such as stealing (Louisiana and her grandmother steal to eat) and trespassing (Beverly picks locks with her ever-ready pocket knife)
Overall rating: 3.75 (out of 5)
Artistic value: 4.5
Worldview/moral value: 3.5
Please follow and like us: