*NLT Jesus-Centered Bible.  Group Publishing, 2015, 1440 pages.  (Available in hard- and soft-cover editions.)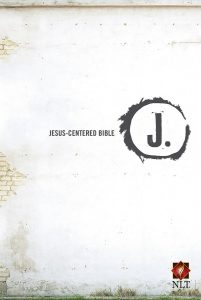 Reading Level: Middle Grades, ages 8-10
Recommended for: ages 12-17
Bottom Line: The NLT Jesus Centered Bible is a serious attempt to revel Christ as the centerpiece and main character of both Old and New Testaments.
The New Living Translation (see our post on Bible translations), a later development of the New Living Version paraphrase, is not considered the most accurate, but is currently the most popular.  It's certainly readable and often engaging.  This edition follows the welcome trend, popularized in The Jesus Storybook Bible, to relate the entire Bible text to the story of redemption and Jesus as its essential figure.  The format is straightforward and relevant without being slangy.  The unique feature of this Bible is its use of the colors blue and red.  The "blue-letter" Old Testament indicates direct references to the coming Messiah and prophesies later seen as pointing to him.  Book introductions are all about "Jesus in ____ [Genesis, Psalms, etc.]."  Jesus is easy to find in Genesis, Psalms, and Isaiah, but what about Obadiah? Ecclesiastes? Nahum? Ezra?  The editors manage to find him there, too.
As in most study and devotional Bibles (this is an example of the former), special features are included, but there's a distinction between Old and New Testaments.  The OT in-text features include "Reframing Jesus" (how OT stories and people provide examples that Jesus will complete) and "Jesus Notes" that explain the blue-letter text.  These might be direct prophesies or parallels, but more often comparisons of OT expectation or teaching with NT fulfillment or expansion.  For example, Jesus as our "ark" contrasts John 3:16-17 with Genesis 7:23-24.  The color switches to red in the New Testament, and is used not only to indicate Jesus's quoted words but also to passages in the non-gospel NT that names him, acclaims him, or further explains him.  This vividly shows the centrality of Christ.  NT features include "Jesus Questions"—which are about him–and "Jesus Answers Life's Essential Questions," which are more about us, answered with relevant scripture texts.  Examples of the former: What can we learn from Thomas's doubts and Jesus's response?  Did Jesus have to learn the same basic life skills we do?  Of the latter: Is God real?   What is truth?  Is this all there is?
These features are outstanding—great for a young seeker or church kid who needs to get serious.
Value: 4.5 (out of 5–a few points off for not-the-best translation)
For our previous Bible posts, type "Bible Reviews" in the search box and keep scrolling.  And here's our post on Choosing Your Child's First REAL Bible.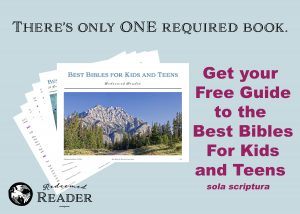 Readers, this is one of our top recommendations for children's Bibles. To see more, get your FREE Guide to the Best Bibles for Children and Teens!
All Amazon links are affiliate links. Redeemed Reader LLC is a participant in Amazon's LLC affiliate program which means we earn a commission on qualifying purchases.
More than 75 books for children and teens, all about islands, oceans, and more. Bonus: get a free hand-drawn reading tracker!
Reading Ahead for You
Reviews and Resources Weekly in Your Inbox