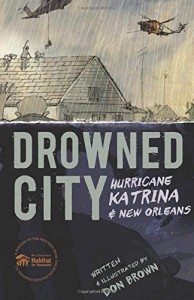 Continuing our series of discussions about "buzz" books, this time Janie and Betsy look at a nonfiction work in graphic novel format.
Betsy: Drowned City: Hurricane Katrina and New Orleans is getting buzz on several Mock lists. Because it is a nonfiction graphic novel, I've heard it thrown about as a possible Caldecott, Newbery, and/or Sibert candidate. Could this be a book (like El Deafo) that crosses award lines? While we can't know what the real contenders are until the awards are announced in January, it is worth noting that Drowned City has already been awarded the 2016 Orbis Pictus Award (for outstanding nonfiction). Don Brown has written and illustrated numerous quality nonfiction books and biographies for children over the years, and he brings his full artistic gifts to bear in this graphic novel. The subdued palette, the variety of panel sizes and shapes, and the varied perspectives all combine to tell a vivid picture of what happened in New Orleans during Hurricane Katrina and the flooding in its aftermath. For kids reading this book, these are historical events—ones they do not remember. Janie, how well do you think Brown does in portraying the actual historical events of this tragedy?
Janie: I think he's especially good describing the early events, beginning with the "swirl of unremarkable wind" that leaves Africa in early August and picks up energy and speed as it crosses the Atlantic.  I had forgotten—or never knew—that Katrina struck the southernmost point of Florida first and killed six people.  That alone would have put it in the history books, but of course, it wasn't done.  Most of us grownups can remember how the news reports began coming in, from early speculations on Sunday to the grotesque rumors that the news media were frantically reporting by Wednesday.  Brown correctly informs us that the wildest rumors were untrue, but the reality was grim enough.  A couple of panels especially struck me: the man and his wife who barely escaped their deluged house by hacking a hole in the roof with a knife.  Or the man wading through chest-high water holding a baby over his head.  The comments in dialogue bubbles are all actual quotes from the people involved.  Some of these people needed a little more identification, to my mind, but overall I'd say the historical portrayal is very effective.  The question that automatically emerges is, who are the heroes and villains in this story?  Any thoughts on that?
Betsy: That is indeed a question to ask, Janie! I found myself racking my brain to see what I remembered—were the government leaders (both state and federal) that ignorant of what was really going on? In Brown's description of events, it's unclear whether law enforcement and emergency services were trying to communicate with one another effectively and were simply hampered by the fallout from the storm (no electricity, phone lines down, impassable roadways, etc.) or whether they were shirking their duties and perhaps even turning a blind eye to the ongoing destruction and human suffering. Brown certainly casts some shadow on those in the top tier of responsibility, including President George W. Bush, and Brown's focus in this book seems to be a wide angle lens that attempts to include anyone involved (rather than tell a few personal stories of select victims). I don't know that anyone will ever know the full story, or that any one person or entity should shoulder more blame than others. What is clear is that—much like the Titanic tragedy—a series of decisions made ahead of time and the onset of the hurricane helped set much of the events in motion: the purported strength of the levees, the lack of clear advance planning for disaster, and the lack of coordination among various entities. Are there other books you've read about Hurricane Katrina for this same target audience that look at the events from a different angle or provide more specific human interest?
Janie: Actually, Brown spreads out the blame: the mayor and city government first, which seems fair. As first responders, they should have been prepared for something like this.  The Army Corps of Engineers had promised the levee could withstand 200-mph winds, and of course it didn't.  Over 200 cops were later investigated for abandoning the city.  President Bush was slow to respond (panels show him regally circling the damage in Air Force One while on the way home from a "Texas vacation"), and the FEMA didn't know what to do.  The author may have intended a slam at Bush, but to me his presentation shows vividly what conservatives already believe: that the federal government can't operate efficiently, and even though it can provide vital help in the aftermath, the first response to any disaster should come at the local level.
But Brown salutes the real heroes of the story: the Louisiana Department of Wildlife and Fisheries, who got boats in the water right after the storm blew over; the US Coast Guard, who brought helicopters in for supply and rescue; the National Guard, who arrived within days and provided a much-needed sense of order in the streets; and neighbors and volunteers who looked out for each other.  Without these, the death toll would have been much higher than 1,400.
Zane and the Hurricane, selected as an honorable mention for World Magazine's Children's Book of the Year, is an outstanding example of the personal approach to history: telling the story through the experience of individuals.  Brown's approach is more from a wide-angle.  I think we need both, especially for children.  It's possible to get too personal—to see everything through a lens of anecdote.  Graphic non-fiction is a good way to introduce kids to straight-up history, and I expect we'll be seeing more of it.
Betsy: Yes, Janie, I expect–and hope–to see more graphic non-fiction in the future. Drowned City is a great example of how effective this format is in portraying a significant event. Much like picture book biographies, graphic non-fiction juxtaposes artistic renderings with succinct text to plunge the reader immediately into an event or time period.
If you've read this book, what do you think? Is it worthy to win a major award?
Cover image from amazon; note that portions of the sale of this book go to Habitat for Humanity!
Please follow and like us: