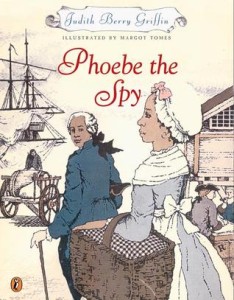 Phoebe the Spy by Judith Griffin, illustrated by Margot Tomes. Puffin Books, 2002. 48 pages.
Reading Level: Middle Grades, Ages 8-10
Recommended For: Ages 8-10, Ages 10-12
Phoebe's father owns an inn in Boston around the time of the American revolution, and one day he comes to her with a serious matter. He has heard that someone close to General George Washington intends to try to take his life. Would Phoebe be a spy, working as a servant in George Washington's household, and try to save the General's life?
Nervous but brave, Phoebe agrees. She becomes acquainted with the General's friends and tries to be discerning as she serves in the kitchen and during parties. She meets with her father weekly, but time and again there is nothing to report. She begins to have doubts about the rumor, and wishes there were someone who could advise her. Could the assassination threat be only a rumor? At last her trustworthiness is proven, and the general's life is saved, at the cost of his chickens.
How much of the story is factual is uncertain, but it is an exciting tale to read aloud or independently.
Cautions: none
Overall Rating: 4 out of 5  
Worldview Rating: 4 out of 5
Artistic Rating: 4 out of 5
Categories: 4 stars and up, historical fiction, chapter books, retro reads, history, character values, American history
Cover image from goodreads.
More than 75 books for children and teens, all about islands, oceans, and more. Bonus: get a free hand-drawn reading tracker!
Reading Ahead for You
Reviews and Resources Weekly in Your Inbox