A Chocolate Moose for Dinner by Fred Gwynne. Scholastic, 1976. 32 pages.
Reading Level: Ages 4-8, Picture book
Recommended For: Ages 4-8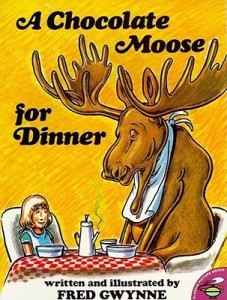 When a child hears her parents using idioms, she imagines literal interpretations with humorous results. How do you hang shoes on a tree? Would a new wing on the house have feathers? Would there be diving boards at a car pool? How do you put airplanes on hangers? Does Santa really have claws? The daily news takes on a whole new meaning with gorilla (guerilla) warfare and a man holding up a bank.
With delightful childlike perspective, Fred Gwynne (best known as Herman Munster on the TV show "The Munsters") demonstrates the confusing nature of the English language. This is a unique classic that invites readers to play with words.
Cautions: none
Overall Rating: 4 out of 5
Worldview Rating: 4 out of 5
Artistic Rating: 4 out of 5
Categories: 4 stars and up, picture books, Retro Reads, Humor, Language Arts
Cover image from goodreads.
More than 75 books for children and teens, all about islands, oceans, and more. Bonus: get a free hand-drawn reading tracker!
Reading Ahead for You
Reviews and Resources Weekly in Your Inbox