Sun and Moon, Ice and Snow by Jessica Day George. Bloomsbury USA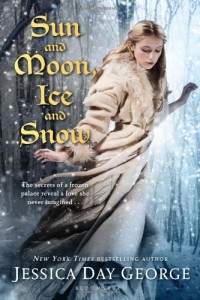 Childrens, 2009. 352 pages
Reading Level: Young Adult, ages 12-15
Recommended for: Ages 16-up
Bottom Line: A problematic retelling of a Nordic fairy tale "East of the Sun, West of the Moon" which explores the story of a nameless young woman and an ice bear under a terrible curse.
The lass was a disappointment from the moment she was born. Her mother longed for another son, but was instead saddled with a worthless "pika" (girl) that was simply another mouth to feed. As punishment, her mother never gave her a name. She is known to her family as "girl" "lass" or "pika." When her brothers go into the world to seek their fortunes, the lass stays home and tends to her parents, until one day her eldest and favorite brother, Hans Peter, returns home a broken shell of his former jovial self.  After saving an ancient white stag, the lass is granted the gift of communication with animals. When a giant white bear offers her family material comfort if she'll live with him in his palace for one year, she accepts, hoping to uncover the secret behind Hans Peter's sadness.
The palace, although beautiful, holds dangerous secrets. The closer the lass gets to unraveling the mystery, the harsher her host becomes. The bear warns her to live out her year as simply as possible, and then all will be revealed to her. This would seem an acceptable arrangement, except for the fact that a stranger comes into her room each night and sleeps in the bed with her. Obviously, this plot-twist does contain some sensuality that many families may want to avoid. However, the lass and stranger do not speak or touch (except once, later in the book when they kiss), and this strange character leads to a discovery that will lead the lass on an adventure "East of the Sun, West of the Moon" to find her happily ever after.
Told with clean, crisp prose and an engaging narrative voice, Sun and Moon, Ice and Snow explores the themes of self worth, familial love, bravery, and sacrifice. The lass is a strong protagonist who learns from her mistakes, has a compassionate heart, and is willing to push out of her comfort zone to protect those she loves.  Unfortunately, a superstitious worldview is presented, with violent troll magic ruling the lands, and families believing in luck rather than faith. Although violence is rarely seen on the page, several characters meet their end because of the cruel troll queen and her daughter. The story is an engaging retelling, but younger teens especially may want to skip this book because of the sensuality.
Cautions: Sensuality (sleeping in bed with stranger), Supernatural (curses, trolls, the winds personified, mythical creatures).
Overall Rating: 3.5 (out of 5)
Worldview/moral value: 3.5
Artistic Value: 3.5
Categories: Fantasy, Young Adult, Girls, Fairy Tales
*cover image from Amazon.com 
More than 75 books for children and teens, all about islands, oceans, and more. Bonus: get a free hand-drawn reading tracker!
Reading Ahead for You
Reviews and Resources Weekly in Your Inbox