Matthew Muddles Through (Matthew in the Middle #1) by Glenda Mathes. CreateSpace, 2014, 220 pages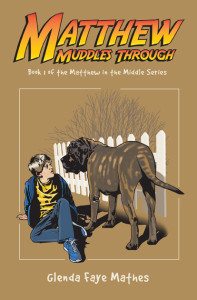 Reading Level: Middle Grades, ages 8-10
Recommended for: ages 8-12
Bottom Line: The everyday adventures of a small-town preacher's kid acquire eternal significance in this low-key series for middle graders.
Matthew Vos belongs to a shrinking culture: the church-going, catechism-learning, Bible-reading Reformed family of middle America. He's growing up in the mid-nineties, in the hinge of relative calm between the Reagan revolution and 9/11–but also in between two brothers: "Being in the middle means I'm old enough for work, but too young for fun." Also old enough to long for the freedom John has, and young enough share a bed in the crowded parsonage with Luke, a perpetual-motion machine. The story unfolds over the bleak winter months, with Christmas already over and Matthew dreaming of Cadet summer camp in the mountains. But there's a good chance he won't be able to go, what with other demands on his dad's meager salary, conflicts at church, and troubles at school. Then there's the huge dog who "targets him like a heat-seeking missile" every time Matthew goes outside. And what about the tramp his dad brought home? And why is Mom sick so much?
Any reader with siblings can relate to some of those problems, but Matthew is also struggling with how grow up as a Christian—without necessarily thinking in those terms. As the son of a pastor he knows the expectations of his community, but his inclinations don't always match up. He's at the age where kids are beginning to question of what they've always been taught and how it applies to them personally. Matthew has no hidden supernatural abilities and will not be chosen to save the world, but the Holy Spirit is at work in him anyway, and it's a struggle worth watching.
Cautions: None
Overall rating: 4 (out of 5)

Worldview/moral value: 5
Artistic value: 4
Categories: Middle Grades, Realistic Fiction, Character Values, Christian
Please follow and like us: