Mara, Daughter of the Nile by Eloise Jarvis McGraw.  Puffin, 1985, 288 pages  
Reading Level: Young Adults, ages 12-14
Recommended for: Ages 12-up
Bottom Line:  Ancient Egypt comes alive through historical fiction when romance and intrigue meet in the life of a slave girl.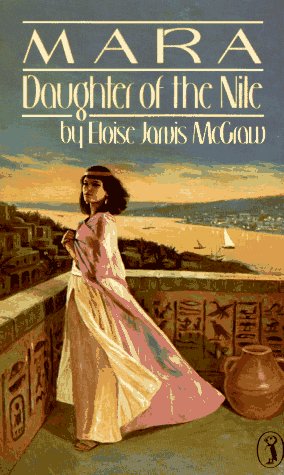 As Mara, Daughter of the Nile opens, Hatshepsut is pharaoh.  While Hatshepsut pours money into lavish projects, the army is neglected and unrest threatens Egyptian borders.
Sheftu, a trusted favorite of the queen, is secretly plotting against her. He will go to all ends to have Hatshepsut deposed from the throne in favor of her brother, Thutmose. In Thutmose, Sheftu sees a leader who will truly serve Egypt.  Sheftu leads a double life, most know him as a pampered court official. But some know him as Sashai, a scribe who is weaving together a band of rebels willing to rise against Hatshepsut.
Mara, a young slave girl, is one of only a handful who know Sheftu in both of his roles.  Caught in a deadly game of intrigue, Mara enters Hatshepsut's court serving as translator for a Babylonian princess. Drawn together by a twisting, turning series of events, Mara and Sheftu begin to feel an attraction toward each other.
For Mara, quick-witted and quick-tongued, love is a foreign concept. The only constant she knows from a shifting world of slave masters and drudgery is self-preservation. What is more, Mara holds a secret that could wreck Sheftu's hopes and ruin all of his plans but in the process lead to her freedom.
Told with a shifting narrative, Mara, Daughter of the Nile, is much more than a romantic tale of two lovers. Rather, it is an exciting, fast-paced story that explores friendship, love, trust, and loyalty to one's country. Much of this is shown as Mara gradually realizes that there is much more to life than seeking her own happiness.
For Sheftu, disillusioned by the way loyalty can be bought, comes the realization that true loyalty cannot be purchased. Values, virtues, and character are on display as the story unfolds. In the end, Mara and Sheftu's love for each other does not conquer all obstacles. Instead it is their love for a higher thing, in this case, Egypt, that will ultimately bring them together.
Worldview/Moral Value: 4 (out of 5)
Literary Value: 4.5
Cautions: Sensuality (The Babylonian princess is scandalized by the thinness of Egyptian dresses)
Overall rating: 4.5 (out of 5)
Worldview/moral value: 4
Artistic value: 5
Categories: Young Adult, Girls, Fiction, Historical Fiction, History, Ancient History, Egyptian, Romance
Cover Image from Amazon 
More than 75 books for children and teens, all about islands, oceans, and more. Bonus: get a free hand-drawn reading tracker!
Reading Ahead for You
Reviews and Resources Weekly in Your Inbox