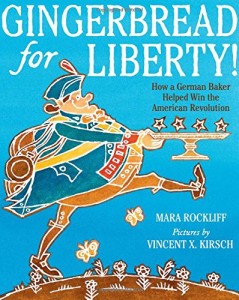 *Gingerbread for Liberty! How a German Baker Helped Win the American Revolution by Mara Rockliff and illustrated by Vincent X. Kirsch. HMH Books, 2015. 32 pages
Reading Level: Picture Books, ages 4-8
Recommended For: Ages 4-8
While there's more to it than simple cooking finesse, one German baker put his baking talents to heroic use during the American Revolution, receiving high praise from George Washington himself!
Christopher Ludwick was passionately committed to his new country's freedoms and reward for personal industry. When Revolution loomed, he left his thriving bakery to offer his jovial, rotund self to General Washington. Seeing the hunger etched on the troops' faces, Ludwick put on his apron rather than weapons and set to work. Ludwick was instrumental in showing foreign soldiers kindness and wooing them to America's promise.
Charming illustrations in the style of gingerbread cookies enhance this cheerful, patriotic look at the service ordinary people provide when they serve where God has gifted them. Ludwick went the extra mile with General Washington himself, providing thousands of pounds of bread for their starving former enemies at war's end. *Note: Endpapers include a gingerbread cookie recipe; in addition, see excellent author's note at end
Cautions: none
Overall Rating: 5 (out of 5)
Worldview Rating: 4.75
Artistic Rating: 5
Categories: Picture Books, Nonfiction, History, Starred Review, Character Values
*indicates starred review
cover image from amazon

More than 75 books for children and teens, all about islands, oceans, and more. Bonus: get a free hand-drawn reading tracker!
Reading Ahead for You
Reviews and Resources Weekly in Your Inbox