*Circus Mirandus by Cassie Beasley. Dial, 2015, 304 pages
Reading Level: Middle Grades, age 10-12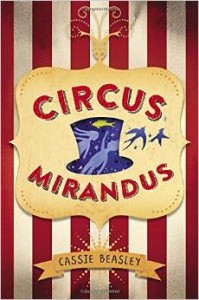 Recommended for: all ages
Bottom Line: Circus Mirandus, a magical tale for middle-graders, avoids sentimentality and can easily be adapted to a Christian understanding of the Kingdom.
Micah Tuttle is swiftly approaching a crisis: Grandpa Ephraim, who raised him from toddlerhood, is so sick that his sister has come all the way from Arizona to take care of him. Grandpa may even be dying. Which would leave Micah in the care of Great-aunt Gertrudis, who is as devoid of humor and sympathy as a dead fish. Is Micah waking up to reality after a dreamlike childhood fed by his Grandpa's fanciful stories of the "Circus Mirandus" he visited as a boy? Or . . . could it be that Circus Mirandus is the true reality? Grandpa definitely believes in it—in fact, he's written a letter to someone there. To the Lightbender: "You promised me a miracle . . ." When a discouraging reply is delivered by a self-important parrot named Chintzy, Micah knows he has to take action. Somehow he must find Circus Maximus and the Lightbender and make sure Grandpa gets his miracle. But he'll need help, and (miraculously, we might say) soon finds it in Jenny Mendoza, a new girl at school. Jenny is a girl who likes facts and specs, and Circus Mirandus conspicuously lacks both. So she's skeptical. But she's also a true friend, and will do what she can to help Micah fulfill his mission.
The theme is very similar to a lot of "magical" titles released in the last few years, but in most of these books the magic is just there, somehow, with no context. Circus Mirandus, this traveling show with a Head and a history, presents us with something deeper. You have to believe it to see it, runs the tagline, reminding me of John 7:17, where Jesus implies that only those willing to believe will know. Magic here is explicitly linked with faith. Is this Christian faith? The author leaves that open, but drops hints. For instance, the drawer in Grandpa's nightstand contains, for no apparent reason, a Bible. Also, the magic is not his to command, but belongs to a greater power. Circus Mirandus, in fact, is a lot like the Kingdom of Heaven, which exists alongside daily reality and can be seen only by faith. The author rests a lot of this ability to see with children—which, in less careful hands, could devolve into easy sentimentality. But who said we must enter the Kingdom as a little child? (Great-aunt Gertrudis, as is turns out, once had a chance to see and it was taken from her. Now she refuses to believe and lives within a prison of her own making.) The writing is lovely, the characters appealing, and the story casts a gentle spell that lingers after the final page.
Cautions: None
Overall rating: 5 (out of 5)
Worldview/moral value: 5
Artistic value: 5
Categories: Middle Grade, Fantasy, Starred Review, Character Values, Read Alouds
More than 75 books for children and teens, all about islands, oceans, and more. Bonus: get a free hand-drawn reading tracker!
Reading Ahead for You
Reviews and Resources Weekly in Your Inbox