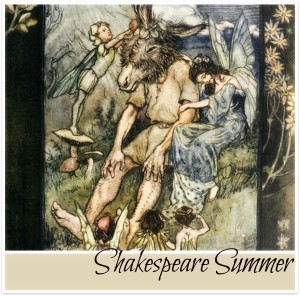 During our break this summer, we are taking the opportunity to experience the richness of great literature in a multi-layered fashion. We don't have all the distractions of other academics, so we are free to linger over wonderful stories that must be enjoyed and appreciated before they are examined.
Hello, friend Shakespeare. Welcome, "A Midsummer Night's Dream."
My boys are 8, 6, 3 ½ and 17 months. Do you realize how many child-friendly versions there are of his plays?
I chose A Midsummer Night's Dream because:
It happens to be the first play in Ken Ludwig's guide How to Teach Your Children Shakespeare 
There are SO MANY adaptations of this play available.
The local Shakespeare company will be performing this great play in the coming months so we can really experience it!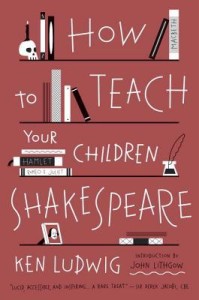 So, here's my simple approach. You could put the following ideas on pieces of paper in a mason jar and draw them out in any order. (Note that I am not reading all of the collections cover to cover, just the single play.) Once we've finished A Midsummer Night's Dream however, I plan to finish reading all the stories in one of the collections just to give them a taste of Shakespeare's other writings. Next summer we'll choose another play based on what performances will be available.
Check with your local theater companies to see if any of them are performing Shakespeare's plays in the coming months.
I started with Ludwig's How to Teach Your Children Shakespeare. "Here boys, repeat this line after me." I love hearing it for the rest of the afternoon! (Update: Ludwig's chosen lines from Shakespeare are not always my favorites, so I am simply using his methods to choose my own passages from Wikiquote.)
Read one of the adaptations. Let them draw or color pictures while they listen. (Google the title of the play with "coloring pages").
Read another version.
Repeat.
Read a simple biography.
Keep memorizing lines because they can, and you can, and summer is a beautiful time to relax and enjoy language, and because the story takes place on a Midsummer Night.
Read E. Nesbit's version.
Read Charles and Mary Lamb's version.
Assign parts and take turns reading an act. You might invite another family to join you!
Watch a video, if an appropriate one is available.
Leave the books lying around irresistibly to be looked at.
Ask "Which one do you want to hear again?"
Attend the play.
Finally, here is my booklist in the spirit of Exodus 4:2a, "And the Lord said to Moses, 'What do you have in your hand?'"
What is on your bookshelves? What is at the library? What is available as an ebook or on Librivox? What can you borrow from a friend?
Here are some we plan to enjoy in alphabetical order by title:
There are other versions that may be at your local library. Just search by the title of the play you want to enjoy and see what the Lord provides!
Please follow and like us: