Woof (a Bowser and Birdie Novel) by Spencer Quinn. Scholastic, 2015. 293 pages
Reading Level: Middle grades, ages 10-12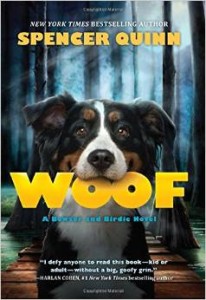 Recommended for: ages 9-13
Bottom Line: Bowser, a loveable mutt, gets to tell his own story about how he and his "off the charts" owner, Birdie, started their crime-solving partnership.
Two humans stood outside my cage, a white-haired woman and a gum-chewing kid. Gum chewing is one of the best sounds out there, and the smell's not bad, either. I liked the kid from the get-go.
Every mystery series needs a peculiar hook: a fat detective, a female-cop detective, a historical detective, etc. Bowser is not the first canine detective, but he may be the most winsome. His career begins when the gum-chewing kid, Birdie Gaux, has just turned eleven and her grandmother has reluctantly agreed to get her a dog. Even though the mutt looks like he'll eat them out of house and home (Who, me? he innocently muses), Birdie loves his gentle eyes. For his part, Bowser is smitten: I stepped forward, gave her fingers a lick. They tasted of baloney, like maybe Birdie had eaten a baloney sandwich, and not long ago. The kid was off the charts. The two team up just in time, for immediately after returning home to Gaux Family Fish and Bait, Birdie discovers that Black Jack, the stuffed championship marlin caught in the bayou by her great-grandfather, is missing. Stolen, obviously—had someone heard the rumor that a treasure map was hidden in this heirloom piece of taxidermy?
Without Bowser for a narrator, Woof would have been a fairly routine mystery with an obvious villain and some genuinely scary moments that I would feel hesitant about recommending to fourth-graders. The dog's perspective makes it worthwhile: his sensitive nose and sharp ears prove indispensable to solving the case, despite his checkered past involving a gang of crooks. But he's still a dog: he comically misinterprets human signals and his hierarchy of good and evil has a lot to do with food.  Also he's loyal as a—well, as a hound. Dog-lovers will fall hard for him.
Cautions: Language (two instances of oh-my-god), Violence (Birdie is almost kidnapped; the villain meets an unexpectedly bloody—though not graphic–end)
Overall rating: 3.5 (out of 5)
Worldview/moral value: 3.5
Artistic value: 4
Categories: Mystery, Middle Grades, Animals
Reading Ahead for You
Reviews and Resources Weekly in Your Inbox