Hammer of the Huguenots by Douglas Bond. P&R, 2015. 215 pages
Reading Level: Middle Grades,ages 10-12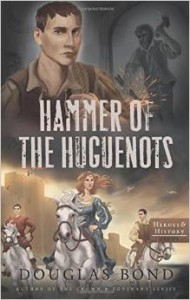 Recommended for: ages 10 and up
Bottom Line: Douglas Bond's latest fictional excursion into church history focuses on the struggles of the French Protestants during the mid-seventeenth century.
Philippe had no idea when he apprenticed to the shipbuilder, Monsieur Beaune, that his master was a devout Huguenot (French Protestant), nor that he would fall under the spell of the pious and beautiful Sophie Beaune. The master's son Maurice is also hard to ignore—a firebrand with a genius for drama, but also a loyal friend. France is experiencing revival: the good news of the gospel is sweeping through villages and cities, from Navarre to Paris. But the royal family, particularly Queen Mother Catherine de Medici, will go to any length to keep France Catholic. News of riots and even massacres have begun to reach the port city of Aigues-Mortes: how long will the Beaune family be safe? Soon Protestant armies will muster against royalist ones: should Philippe and Maurice take cover, or join the fight?
The author fills another gap in church history with his latest novel, which traces a story of apparent failure. Even though the gospel spread rapidly through France, official efforts to violently put it down appeared to be successful. Hammer of the Huguenots shows the cost of that suppression to the Protestants: loss of property, home, family, and life itself. But in the process, many souls were saved through the heroic preaching of pastors like Pierre Viret, who appears in the novel.
In a culture that seems to be sliding ever farther from the word of God, today's Christians need to know that Jesus never promised an easy road, and his goals don't always match with ours. Hammer of the Huguenots reminds us that God's people sometimes have to endure extraordinary trials, but it also exhibits a problem found in many historical novels: the "information dump," where quantities of factual history are served up through dialogue that sounds more like talkative textbooks. The exposition sometimes loosens dramatic tension. Philippe, the main character, is more acted upon than acting, and doesn't come into clear focus. But Maurice and Sophie have strong appeal, and demonstrate that pious doesn't mean boring.
Overall rating: 4 (out of 5)
Worldview/moral value: 5
Artistic value: 3
Categories: Historical Fiction, Young Adult, Middle Grades, Christian, European History, Character Values
More than 75 books for children and teens, all about islands, oceans, and more. Bonus: get a free hand-drawn reading tracker!
Reading Ahead for You
Reviews and Resources Weekly in Your Inbox