Masterminds by Gordon Korman. Balzer & Bray, 2015, 336 pages
Reading Level: Middle Grades, ages 10-12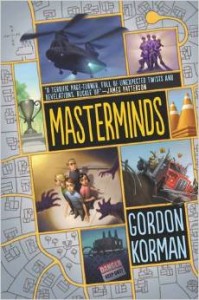 Recommended for: ages 12-15
Bottom Line: Masterminds raises some interesting ethical questions in the midst of a fast-moving thriller that pits kids against grownups.
Who would want to live anywhere but Serenity, New Mexico? Yes, it's small, and kind of isolated, and the thirty-odd kids there are all, oddly, about the same age (12-13). But whenever Eli Frieden feels like complaining, his father always points to the newspaper clipping stuck to the refrigerator door: Serenity Voted #1 in USA for Standard of Living. No crime, no poverty, never is heard a discouraging word. At least not from the grownups. Some of the kids express rebellious thoughts, like Malik the doctor's son and Eli's best friend Randy. It's Randy who suggests a bike ride outside the city limits, during which Eli is stricken with a sudden, deathly illness. Not long after that, Randy announces he's leaving Serenity to help "grandparents" he never heard of on a "farm" he never suspected. Eli slowly realizes that something is rotten in Utopia. Others come to the same conclusion: Malik the malcontent, Hector the wimp, Tori the artist, Amber the booster. Together they lift the veils on a diabolical plot that directly involves each one of them.
This is a page-turner with sympathetic characters. It's also one of those adults-behaving-badly stories (see Unwind and The Adoration of Jenna Fox) that pits kids against grownups and forces a barely-believable battle of wit and strength between the two. The narrow escapes and coincidences stretch credulity sometimes, but not enough to disengage. Let the reader be warned: I was not aware that this was first of a series until I reached the last chapter with too much unresolved. This is one series I intend to keep an eye on. Though mostly an action tale, it raises ethical questions about (mild spoiler here) cloning and nature vs. nurture. These concerns raise Masterminds out of the straightforward thriller genre and may even stimulate some interesting discussion.
Cautions: Language (mild profanity; 2-3 misuses of God's name)
Overall Rating: 4 (out of 5)
Worldview/moral value: 4
Artistic value: 3.5
Categories: Middle Grades, Science Fiction, Mystery, Life Issues
More than 75 books for children and teens, all about islands, oceans, and more. Bonus: get a free hand-drawn reading tracker!
Reading Ahead for You
Reviews and Resources Weekly in Your Inbox