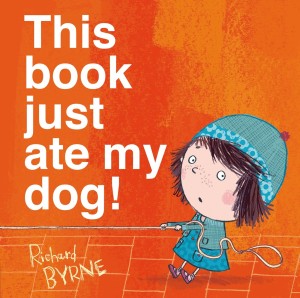 This Book Just Ate My Dog! by Richard Byrne. Henry Holt and Co., 2014. 32 pages.
Reading Level: Picture Books, ages 4-8
Books that turn the book format on its head and play with the reader are fun to read to children, especially those who are experienced listeners. This Book Just Ate My Dog! is such a book and one that will likely produce initial stares followed by laughter as the book progressively eats more and more characters. Can a book eat the illustrations? Are the illustrations really separate from the "book"? Byrne admirably plays with these meta-questions in a kindergarten-friendly manner. His quirky illustrations are just the right fit for the humorous text. This is a book that will be a reread! Note the endpapers; the entire book tells the story.
Cautions: none
Overall Rating: 3.75 (out of 5)
Worldview Rating: 3.5
Artistic Rating: 4
Categories: Picture Books, Humor
Cover image from Amazon

Support our writers and help keep Redeemed Reader ad-free.