Big Book of Quizzes: Fun, Quirky Questions for You and Your Friends (Faithgirlz!) Zonderkidz, 2014. 127 pages.
Reading Level: Middle Grades, ages 10-12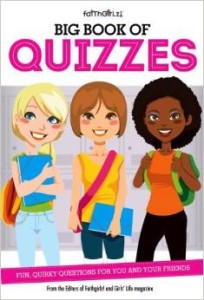 Recommended for: ages: 12-15
Bottom Line: Faithgirlz! Big Book of Quizzes can be useful for helping preteen girls figure out who they are but comes with some cultural baggage.
Around the ages of 11-14, girls start getting a little introspective—if not self-obsessed. It's this characteristic of the tweener species that Faithgirlz! (a Zondervan franchise) seeks to address with this book of self-evaluation quizzes. It's a good idea, an attempt to provide some friendly, casual, and (sometimes) Scripture-based perspective to preteen drama queens, study buddies and late-bloomers alike. The quizzes consist mostly of Would You Rather… or What Would You Do If… questions, and are grouped around four major divisions: personality, school, best friends and boyfriends, and faith and family.
A couple of drawbacks: first, a relentlessly slangy style that wears out quickly, as in, Sitting in the caf, you overhear someone asking your BFF about her big b-day plans when it hits you—you totally spaced it! Like, do tween sistahs totally talk this way, girlfriend? Seems to try a little too hard. Also, the authors assume that their readers are plugged into contemporary youth culture: dissing on classmates, brand shopping, catching Pretty Little Liars on TV, deciding they're "ready to date" at age 14. There's not a lot of guidance on the dating scene, although readers are advised to talk it over with the 'rents before making a move. That's nice—unless you're the 'rent, and your 8th-grader bounds into the kitchen waving this book and crowing triumphantly, "Look! I passed the quiz, and I'm 'Definitely a Dater'! So when can I go out with Justin?" Moms and dads be advised. Otherwise, it's a cute, friendly way for a girl to discover a little more about herself.
Cautions: Worldview (definitely Christian, but perhaps mingling a little too much with the world)
Overall Rating: 3.5 (out of 5)
Worldview Rating: 4
Artistic Rating: 3
Categories: Nonfiction, Christian, Middle Grades, Young Adult, Interactive, Discussion Starter, Life Issues, Character Values
Cover image from Amazon.
A free copy was received from Zondervan for a fair review.

More than 75 books for children and teens, all about islands, oceans, and more. Bonus: get a free hand-drawn reading tracker!
Reading Ahead for You
Reviews and Resources Weekly in Your Inbox