*The Farmer and the Clown by Marla Frazee. Beach Lane Books, 2014. 32 pages.
Reading Level: Picture Books, ages 4-8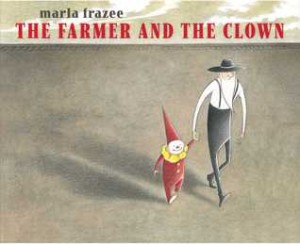 A sour-faced farmer works in his hayfield with only the crows overhead for company. When he pauses to watch a passing circus train, he is surprised to see something fly out the back. Going to investigate, he finds a very young clown with a big smile painted on his white face, starkly in contrast with the farmer's scowl.
The clown-boy accompanies him home. They eat dinner and wash their faces before bed—and then the boy's true face appears. How can the farmer make him smile again?
The emotion in this wordless story is perfectly described in the facial expressions between the farmer and the boy, as well in Frazee's use of palette. The farmer and the stark landscape he lives in are all muted and dull—until the red-clad boy comes into his life.
The ending is sweet and just right. Don't miss the last page.
Cautions: none
Overall Rating: 5 (out of 5)
Worldview Rating: 5
Artistic Rating: 5
Categories: Starred Review, Wordless, Character Values
Cover image from Amazon
*indicates starred review

More than 75 books for children and teens, all about islands, oceans, and more. Bonus: get a free hand-drawn reading tracker!
Reading Ahead for You
Reviews and Resources Weekly in Your Inbox