10 Ultimate Truths Girls Should Know by Kari Kampakis. Thomas Nelson, 2014. 197 pages.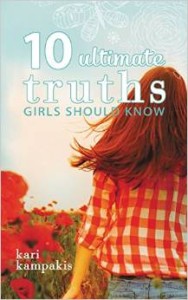 Reading Level: 12-15
Recommended for: 15-18
Bottom Line: Blogger Kari Kampakis frankly and warmly addresses teen girls about what's most important for personal growth, relationships, and a life centered on Christ.
This book grew out of a speech leading to a blog post that, as they say, went viral. The author, a young mom, is not that far removed from the age she addresses, and she does so with tact and grace. The "10 Truths" have to do with (in ascending order) popularity, confidence, reputation, relationships with boys, self-worship, perseverance, patience (get comfortable with being uncomfortable), modesty, true beauty, and the core relationship with God. Most chapters begin with a story or personal experience and end with questions to discuss with friends, mentors, or parents.
There's a lot to like here. The author takes the tone of a big sister who has some regrets but has learned some valuable lessons. Her comparison of self-love vs. self-worship should make for fruitful discussion, as well as the "God-shaped hole" in all of us at war with the "black hole of desire." Then there's the guy issue: One common mistake girls make is putting boys at the center of their universe…this puts undue pressure on the boys. It forces them into a role they were never meant to play, to be a girl's end-all-be-all, everything. That role belongs to Christ.
The book is addressed mainly to college-bound high-schoolers, and the author assumes her readers pursue a "normal" teen existence of classes and extra-curricular activities, parties, peer pressure, academic stress, and despair in front of the mirror. Homeschoolers may not be able to relate to some of it, but the advice is still valuable. One quibble—the author often uses the language of choice as a substitute for sin. Are our problems due to "bad choices," or the innate rebellion that prompts those choices? Many books, sermons, and programs lean too far toward the former, and I think it might obscure, for some teens, where the real problem is.
Cautions: none
Overall Rating: 4.5 (out of 5)
Worldview Rating: 5
Artistic Rating: 4
Categories: Christian, Nonfiction, Young Adult, Discussion Starter, Character Values, Life Issues
Cover image from Amazon
A free copy of this book was received from Thomas Nelson for a fair review.

More than 75 books for children and teens, all about islands, oceans, and more. Bonus: get a free hand-drawn reading tracker!
Reading Ahead for You
Reviews and Resources Weekly in Your Inbox