The Green Ember is animal fantasy at its best, filled with gripping action and heartwarming rabbits, all deeply informed by the Christian worldview of its author.
*The Green Ember by S. D. Smith, illustrated by Zach Franzen.  Story Warren Books, 2014.  368 pages.
Reading Level: Middle Grades, ages 9-12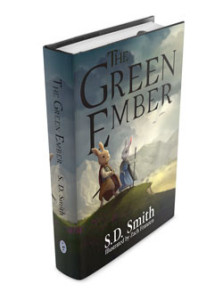 Recommended for: ages 9 and up
The Green Ember is the story of two young rabbits, Heather and Picket, on the cusp of adulthood.  When their home is destroyed by evil wolves and the rest of their family taken hostage, Heather and Picket are pulled into an age-old war between peace-loving rabbits and power-hungry animals of prey (wolves and raptors especially).  To rescue their family, they will have to make new alliances in the Mended Wood, learn new skills from mentors, and most of all, find an inner courage they've never known before.
The Green Ember is described on Smith's website, Story Warren, as "a new story with an old soul."  With medieval elements like swords, strongholds, and storytellers, the book recalls classics of the genre like The Hobbit.  But with more overt Christian themes, cute bunnies, and less stressful scenes of conflict, this book will likely appeal to wider audiences (girls, younger kids) than fantasy series like Brian Jacques's Redwall.
We also reviewed the sequel, Ember Falls.
Cautions: Violence (battles, kidnapping, death), Dark/Depressing (feelings of despair)
Overall Value: 4 (out of 5)
Moral/worldview value: 5
Artistic value: 3.5
Discussion Points:
What did Heather and Picket lose when the wolves attacked?
How did they prepare to rescue their family?  What skills did they need?  What moral and spiritual characteristics?
How did the rabbits work together to learn new skills and encourage one another?  Do you see this in your life?  Who is helping you grow and meet the challenges in your life?  What role does Christ play?
Some people might say Heather wasn't as important as Picket because she didn't learn to fight physically.  How does the biblical view of work challenge that idea?  (For instance, as opposed to the world, Christians know that all kinds of work are important—not just "glorious" jobs like warfare.)
How do you see the Christian worldview at work here?  How does the fallen and Mended Wood reflect the Christian idea of fall and redemption?
Categories: Read-Aloud, Discussion Points, Fantasy, Animal Fantasy, Character Values, Starred Review
Cover image from TheGreenEmber. A free copy of this book received from the publisher for a fair review.
*indicates starred review

More than 75 books for children and teens, all about islands, oceans, and more. Bonus: get a free hand-drawn reading tracker!
Reading Ahead for You
Reviews and Resources Weekly in Your Inbox