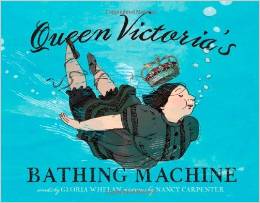 Queen Victoria's Bathing Machine by Gloria Whelan and illustrated by Nancy Carpenter. Simon and Schuster, 2014. 40 pages.
Reading Level: Picture Books, ages 4-8
Maturity Level: 2 (ages 4-8)
It is hard for our modern sensibilities to understand the enormity of the social faux pas Queen Victoria would have committed had she allowed her subjects to see her in her swimming clothes. And "clothes" is indeed accurate: in Victoria's day, women went swimming in more clothes than most young women now wear around town. Victoria's doting husband Albert put his brains to work and invented a "bathing machine" for his beloved wife, a machine that enabled Victoria to take a simple swim in the ocean away from the paparazzi's prying eyes. Whelan's rhyming text and Carpenter's merry illustrations add humor to this sweet story of marital harmony. This is a fun read on its own, but it is also worth noting for its delightful window into a loving marriage that produced nine children! Author's note and bibliography provide more information on Victoria and Albert.
Cautions: none
Overall Quality: 4 (out of 5)
Moral/worldview value: 4
Artistic value:  4
Categories: Picture Books, Auto/Biography, Education, History
Cover image from
amazon
More than 75 books for children and teens, all about islands, oceans, and more. Bonus: get a free hand-drawn reading tracker!
Reading Ahead for You
Reviews and Resources Weekly in Your Inbox