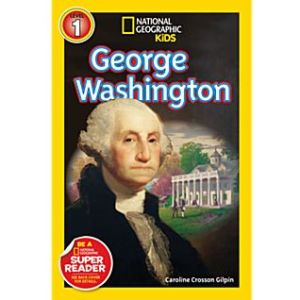 George Washington by Caroline Crosson Gilpin. National Geographic Society, 2014. 128 pgs.
Reading Level: Early reader, leveled reader (ages 4-8)
Maturity Level: 2 (ages 4-8)
National Geographic Kids has a series of biographies about well-known significant figures that is nicely suited to early readers. Each book contains a variety of information and good photographs about the individual within his or her historical context. The readers have short chapters, each with a timeline, key facts, and highlighted quotations and vocabulary, all helpful for building reading confidence. The volume on George Washington is full of interesting facts about Washington's life and includes important historical details about our country. The "words to know" are indicated by a quarter and the illustrations are frequently composed of famous artwork. Other volumes in the series include Thomas Edison, Abraham Lincoln, Alexander Graham Bell, Anne Frank, Amelia Earhart, and Dr. Martin Luther King, Jr.
Cautions: none
Overall Quality: 3.5 (out of 5)
Worldview Value: 3 (out of 5)
Artistic Value: 4 (out of 5)
Categories: Early Readers, Auto/Biography, History, Education, Nonfiction
cover image from 
publisher
; note that the book pictured shows a level 1 for the reading level, but the newest edition is a level 2 reading level
Please follow and like us: