The Great Greene Heist, by Varian Johnson. Scholastic, 2014, 226 pages.  Age/interest level: 9-13.
Everybody loves a con man, as long as they're not the ones getting conned. Jackson Greene already has this reputation at Maplewood Middle School. If any elaborate pranks have been played, he was "allegedly" behind it. He comes by his talents honestly:
"Don't forget who you're talking to," [says his dad]. "I was you before you were even born."

"Didn't you steal Mom from that guy she was dating in college by orchestrating a fight between her boyfriend and the swim team?"

"Allegedly."
Jackson didn't intend to get involved in the student council presidential election, even though Gabriela de la Cruz, the only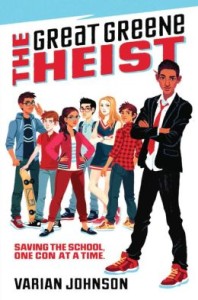 girl for him, is running. She's still furious at him because of an unfortunate incident involving another girl. However, when Keith Sinclair, football jock, announces his candidacy one day after the filing deadline, Jackson smells a rat—namely Principal Kelsey, who has his own reasons for wanting Keith to win. If they plan to steal an election, Jackson can steal it right back. With the help of his best friend Charlie (who is also Gaby's brother), he assembles a crack team: Hashem the tech guy, Victor Cho the bankroll, Bradley the eyes and ears, Megan the decoy.
The Great Greene Heist is often compared to Oceans Eleven, but all the classic caper movies (The Sting, Sneakers, etc.) share the same formula: loveable prankster with some rough edges sees a wrong to be righted, recruits his best friend and rounds up a team of specialists, pulls off a complicated scheme with some tight spots and close calls. It's a challenge keeping track of the characters at first and some of the technical parts are a bit too technical for me. This book is heartily praised for its diverse cast, but except for complexion and last names, they all act like normal American kids. As they should. For kids (and parents) who aren't turned off by lying and cheating in a noble cause (not that we condone it in any cause!), it's good clean fun.
Worldview/moral value: 3
Literary value: 4
Reading Ahead for You
Reviews and Resources Weekly in Your Inbox