Feathers: Not Just for Flying, by Melissa Stewart, illustrated by Sarah S. Brannen. Charlesbridge, 2014, 32 pages.
Reading Level: Picture Book, Ages 4-8
Maturity Level: All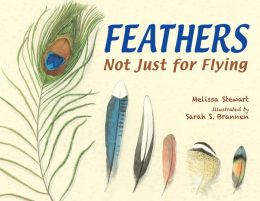 "Birds and feathers go together, like trees and leaves, like stars and sky. All birds have feathers, but no other animals do." And did you know . . .
That's the premise of every good science picture book: the promise of fascinating real facts about the world we live in. Poke creation anywhere and you'll find an unsuspected wealth of detail and variety. The structure of a single feather is amazing and complex, but the author doesn't go there, nor into the supposed evolutionary development.  Her focus is purely on use: warming and cushioning, scrubbing, digging, sliding, shading, hiding or flaunting. Who would have thought? Each use is accompanied by beautiful water-color portraits of birds in habitat, with close-ups of each type of feather and similes of how they are used (like a life jacket, like a whistle, etc.).  Watch out—it could turn readers into birders.
Overall Quality: 4 (out of 5)
Cautions: None
Audience: Independent readers, pre-readers, educators
Recommended use: Read aloud, personal browsing, science enrichment
Please follow and like us: