*National Wildlife Federation World of Birds: a Beginners Guide, by Kim Kirki. Black Dog & Levanthal, 2014, 80 pages including glossary and index.
Reading Level: Picture Book, Ages 4-8; Middle Grades, Ages 8-10
Maturity Level: All
One-line Summary: From the handsomely-embossed cover to the hand-lettered chapter titles, this book is a delight.
There are no photos (oka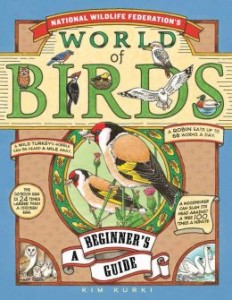 y—one photo), just full-color drawings, and lots of them. It's not an exhaustive compilation, but a close look at 32 bird species (along with relatives and look-alikes). The represented birds are arranged in four habitats: Fields, Thickets & Backyards; Woodlands & Forests; Wetlands, Shores & Bodies of Water; Deserts, Scrublands & Rocky Slopes. Each bird gets two pages—one lavish cover page with male and female specimens, diet, interesting quirks (like mating behaviors), and a little rhyme. The rhymes would be cloying in other types of presentation, but here's they're friendly and personable. The opposite pages have more text but still plenty of illustration, featuring more interesting facts. Most of the specimens are American birds that American kids are likely to encounter, but some are European or Asian. The content here is not as comprehensive as Look Up!, but if you have potential birdwatchers among your household, this may get them hooked.
Cautions: none
Overall Value: 5 (0ut of 5)
Informational value: 4.5
Artistic Value: 5
Categories: Nonfiction, Middle Grades, Picture Books, Starred Review, Natural Science, Biology, Gift Books
nonfiction, science, picture books, middle grades, gift books, biology, animals, birds, hobbies, National Wildlife Federation World of Birds, Kim Kirki, Reading Level: Picture books ages 4-8, Reading Level: Middle grades ages 8-10, Maturity level: all
Please follow and like us: