Almost Super, by Marion Jensen. Harper, 2014, 251 pages.
Reading Level: Middle Grades, Ages 8-12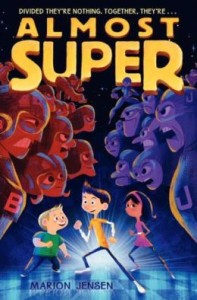 Maturity Level: 3 (ages 8-10)
Every four years, on February 29, the Baileys of Split Rock gather for the adolescent members (12 and older) to receive their specials powers. It always happens at 4:23 p.m.: a flash of light, and all of a sudden each previously ungifted Bailey knows his power. Is it super speed? Super strength? The ability to breathe fire or squirt water from your hands? Rafter and his brother Benny can't wait—but when their gift arrives, they wish they could gift it back. Rafter can now strike safety matches on polyester. And Benny can make his belly button go in and out. How are they supposed to help their family battle the super-villainous Johnsons (always said with a shake of the fist) and the evil they work around their fair city? But then again, if the boys' powers weren't so lame they might never have made the acquaintance of Juanita Johnson, who was also gifted with a worthless power. What's going on?
This is a clever premise that could be just goofy. And there's plenty of goofiness, but some decent points are being made, too. For all their superhero status, the Baileys are so stuck in their ways and so busy fighting the Johnsons they fail to recognize the real enemy (whose last name isn't Johnson). And they're so bedazzled with power they forget what it's for: "It's not your power that makes you super. It's what you do with that power." This is a fun story with a surprising amount of heart—and it also sets up the reader for a sequel.
Worldview/Moral Value: 4 (out of 5)
Literary Value: 4
Cautions: possible vulgarity (for readers who know another meaning for "Johnson"!)
Audience: independent readers, boys, reluctant readers
Recommended use: humor, point of view
Awards: World Magazine Children's Book of the Year Honorable Mention
Support our writers and help keep Redeemed Reader ad-free.