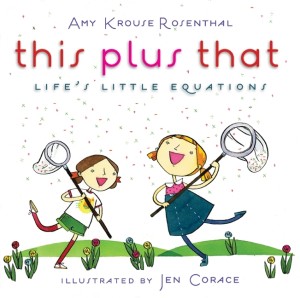 This Plus That: Life's Little Equations by Amy Krouse Rosenthal and illustrated by Jen Corace. Harper, 2011. 32 pages.
Reading Level: Picture Book, Ages 4-8
Maturity Level: same
Rosenthal has a knack for creating a twist on an educational subject and applying it to real life. In this deceptively simple book, various elements of life are turned into mathematical equations. Most of them are straightforward addition equations, but there are a few "is not equal to" twists and a division equation thrown in. For example, a typical page reads: "wishes + frosting = birthday," but another reads: "chores/everyone = family." Cheerful, quirky illustrations enrich the text. This is a fun family read-aloud, particularly this time of year as school is getting underway and math is once again a family topic. This would also be a fun addition to a math class itself!
Overall Quality: 4 out of 5
Cautions: none
Recommended Use: group read-aloud, curriculum tie-in
Audience: parents, educators, children
Categories: education, fiction, math
Cover image thanks to publisher

Reading Ahead for You
Reviews and Resources Weekly in Your Inbox