This post originally appeared in a different format as part of our 2014 Summer Reading Challenge. The content has been adapted slightly to fit our new format.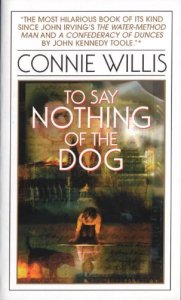 To Say Nothing of the Dog (Oxford Time Travel Series #2) by Connie Willis. Bantam, 1998. 493 pages.
Reading Level: Adult, ages 15 and up
Maturity Level: 6 (ages 15 and up)
One-Line Summary: The Victorian time period, a future in which time travel occurs regularly, a mystery, and sharp, witty prose…to say nothing of the dog…mixes perfectly in this layered, sophisticated book perfect for older teens and grown-ups looking for a good recreational read.
Ned Henry is on yet another time drop in 1940 in Coventry Cathedral just after an air raid by the Nazis destroyed the cathedral. Desperately hunting for the bishop's bird stump, he and his fellow time travelers are trying to get their stories straight (so the "contemps" don't suspect they're from roughly 100 years in the future) and working on a strict schedule. After all, the tyrannical Lady Schrapnell is insistent that her 21st-century restoration of Coventry Cathedral be exact down to the last detail and has been sending Ned on more time drops than are recommended back-to-back. Unfortunately, Ned is diagnosed with time-lag (caused by his many recent time drops) and prescribed strict rest. Rest his supervisor deems will best happen in the Victorian time period while Ned is simultaneously on another mission with the lovely Miss Kindle. After all, the Victorian time period was idyllic, slow-paced, and very restful, right? Wrong, oh so wrong.
And so we are plunged into Ned's dilemma in this clever, tightly written, humorous novel that involves time travel (without an overly "sci-fi" feel), a touch of romance (but not "mushy"!), a lot of mystery, and many hilarious satirical observations of the Victorians. Pitch-perfect characters and myriad references to British literature add to the enjoyment.
The reader arrives at conclusions when Ned does, learns along with him what the mysterious bishop's bird stump is, and sees the Victorians through his witty, 21st-century eyes. Ned's observations about our place in the space-time continuum include references to the Grand Design, the amount of free will we have, and meditation over our ability (or lack thereof) to alter something significant through one person's actions (past or future). The perspective in this book is very amenable to discussion within a Christian worldview.
Note: Like many British novels, this one contains some British swear words/phrases. It also contains many references to seances and mediums; these are clearly portrayed as frauds, functioning as evidence of the Victorians' sentimentality and fascination with the "spirit world."
Cautions: Supernatural (see note above about seances/mediums), Language (British swear words)
Overall Value: 4 (out of 5)
Moral/worldview value: 3.5
Artistic value: 4.5
Categories: Young Adult, Adult, Mystery, Sci-Fi, Entertainment
Cover image from amazon
We'd love some comments from those of you who read this book! What did you think? Did you enjoy having your "own" time travel book to read this summer along with our family and teen read along? And don't forget to check out our Family and Teen Summer Reading Challenge.
Reading Ahead for You
Reviews and Resources Weekly in Your Inbox