Baseball Is . . . by Louise Borden, illustrated by Raul Colon. Simon and Shuster, 2014. 40 pages.
Reading Level: Picture book, ages 4-8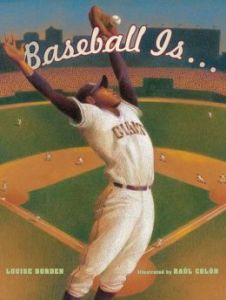 Maturity Level: 2 (ages 4-8) and up
One-line Summary: a picture book tribute to baseball for all ages, from an author and illustrator who love the game.
This lavish picture book is best described as an ode to a game that's still justly called our national pastime. The passion for baseball has a small-town, homegrown feel about it, even for big-city fans who grew up with the Yankees or White Sox. The author's love of baseball (which the illustrator seems to share) isn't just personal; it's almost mythic as she weaves memory with historical fact and legend. Pages where the narrative falls a little flat still manage to soar due to the luminous pastel-pencil illustrations. The text wraps not only around the game but also its surrounding rituals, like players lined up along the baseline during the national anthem and the ever-present "Peanuts!" "Popcorn!" ringing from the stands. A double-page foldout celebrates the legends: Babe Ruth, Jackie Robinson, Roberto Clemente. Everybody has played this game, and since its inception baseball has brought Americans together—that, more than anything, is what "baseball is."
Cautions: none
Overall value: 4.5 (out of 5)
Worldview/moral value: 4
Artistic value: 5
Categories: Picture Books, Read Alouds, Sports
Stuck at home? Enjoy our FREE Christian read-along adventure for all ages with lots of book ideas, discussion questions, and more!
Reading Ahead for You
Reviews and Resources Weekly in Your Inbox