As we celebrate my firstborn's seventh birthday soon, my husband and I are looking forward to introducing our children to C.S. Lewis's Chronicles of Narnia. We have four choices: the movies, radio theatre, audiobook or traditional words on paper.
One family rule I inherited from my mother is that you can't watch the movie until you read the book, so that's out.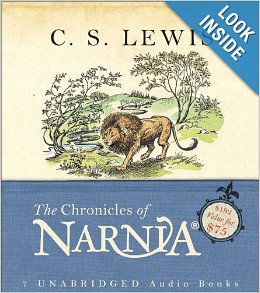 What's the difference between radio theatre and an audiobook? Wouldn't a quality radio production be preferable to someone just reading an audiobook without the enhancement of music and sound effects?
Although I've heard good things about the Chronicles of Narnia radio theatre production from Focus on the Family (whose high-quality team is also responsible for Adventures in Odyssey and Lamplighter Theatre), there are some factors that need to be considered when listening to radio drama. It is similar to listening to a movie from the other room, including sound effects and excitement, but any kind of theatre means that the author's words are being interpreted. Descriptions are deleted, character's thoughts must be voiced or omitted, and some of the author's language and voice through the narrator is lost. (From my experience of producing another of Lewis's masterpieces on stage, I know how difficult this is!)
Most radio theatre tends to work better for children who are older than mine. While my boys love classic audiobooks and have a fairly high level of listening comprehension, I have learned that it is harder for them to follow drama that does not include plain narrative. There is certainly wonderful drama and excitement in radio theatre that brings the story alive in a new way, but I believe that the first experience is best through the book. Later there will be time to build on their experience of the book with audiodrama.
So for our sons' first Narnia experience, we will read aloud from a traditional book for the joy of hearing the author's original story with his own language and descriptions through a beloved parent's voice–and for snuggling on the couch, of course. An audiobook would be a good alternative if we were travelling, as long as it is read by someone who reads well, because that person's voice will be in your head next time you read the book. See Betsy's post on a good Narnia audiobook as well as other great choices if you are travelling.
After this? We will probably at some point share the radio theatre version and watch the movie as a family and discuss the differences between the original book and the interpretation. What worked? What didn't work? What came alive to you? What details did you miss?
That's our family's choice. Now it's your turn, dear readers/listeners/watchers: What has been your experience in visiting Narnia, and which version had the greatest impact on your delight in and understanding of the story?
Support our writers and help keep Redeemed Reader ad-free.