2013 has given us lots of excellent diverse picture book titles: books about minority cultures, folktale retellings, and books by (or illustrated by) people of color. Some of them offer snapshots of a different culture without much commentary. Others show people (or animals) developing character and using hard work to fight opposition or simply to do what's right. "Christianity" is belief in and following Christ; it is not "American" or "British" or "white" or another ethnic or national culture. To that end, let's not hang out in a little WASP world (which is the feeling I get in just about any Christian bookstore or Christian school library). Let's look for opportunities to share with our children the amazingly diverse world God made, the ways in which we can work for justice for all of God's people, and the incredible creativity He has given people from all cultural backgrounds.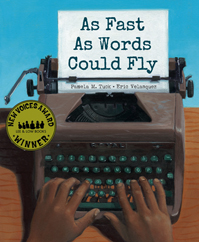 Think of this as an unofficial "Librarians' List" of 8 Diverse Picture Books.
As Fast As Words Could Fly by Pamela M. Tuck and illustrated by Eric Velasquez. Lee & Low, 2013. Age/interest level: 5 and up.
This picture book gives a snapshot of a young man who used his typing skills to work for equality for his race and to represent his people proudly. The story is based on the author's father's experiences. It's a solid example of a young person working hard for something he believes in despite opposition. Illustrations are nice and add to the story.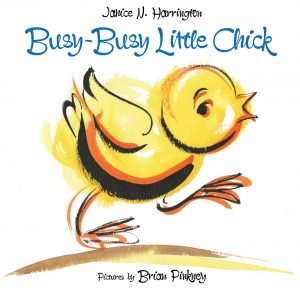 Busy-Busy Little Chick by Janice L. Harrington and illustrated by Brian Pinkney. Farrar, Straus, and Giroux, 2013. Age/interest level: 0-4.
Little Chick is indeed busy-busy in this colorful Central African folk tale. The mother and the other chicks keep putting their work off, much like the proverbial grasshopper. Thanks to Little Chick's hard work, his family still ends up with a nice warm house to sleep in by the end of the story. This is almost a variation of the Little Red Hen, except in reverse (the mama is the lazy one). Simple, bold illustrations are a perfect counterpoint to the text which begs to be read aloud.
Nelson Mandela by Kadir Nelson. Katherine Tegen, 2013. Age/interest level: 4 and up.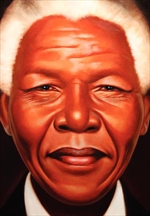 Kadir Nelson has churned out noteworthy picture book after noteworthy picture book, and Nelson Mandela is just as good as his previous works. A picture book biography of the famous man, this book looks at his childhood and provides an overview of the man's life. Nelson's paintings capture such emotion and make this a moving book to read. This book makes a good introduction to Mandela and his work for children. Coretta Scott King Illustrator Honor (2014).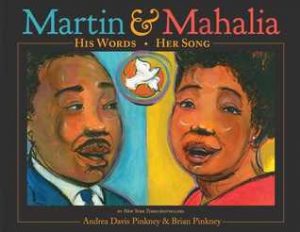 Martin and Mahalia: His Words, Her Songs by Andrea Davis Pinkney and illustrated by Brian Pinkney. Little, Brown, 2013. Age/interest level: 4 and up.
This book had great potential, and many folks think it is one of the best this year. It provides a great starting point to talk about such noteworthy Civil Rights leaders as Martin Luther King, Jr. and Mahalia Jackson. However, the use of the word "gospel" to mean their words and songs instead of the gospel of Scripture may need some clarification for younger audiences.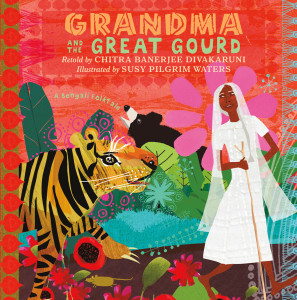 Grandma and the Great Gourd (a Bengali folktale) retold by Chitra Banerjee Divakaruni and illustrated by Susy Pilgrim Waters. Roaring Brook Press, 2013. Age/interest level: 4-8.
This trickster tale set in India is getting some attention in the book world–and with good reason. Vibrant collage-style illustrations set the mood for the jaunty text.  Sound effects sprinkled throughout make for a fun read aloud, and Grandma manages to trick bear, tiger, and fox thanks to help from her resourceful daughter and two trusty dogs. This is a great addition to a collection of trickster tales, and it offers a fun window into Bengali culture (it wouldn't hurt to have some puffed rice cereal on hand while reading and sharing this tale!). See some of the artwork at the publisher's site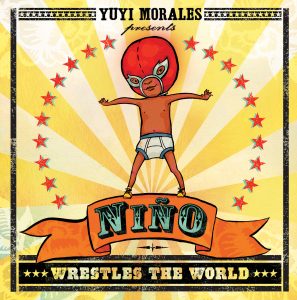 .
Nino Wrestles the World by Yuyi Morales. Roaring Brook Press, 2013. Age/interest level: 4-8.
Don't let that boy in his underwear on the cover turn you off! This is a classic tale of make believe, only in this case it's set against a backdrop of Mexican lucha libre wrestling. This seemingly simple tale of a boy who pretends to be wrestling super villains will introduce you to some key figures in Mexican mythology. And the ending is perfect for all those who have siblings in the house. Note: some figures might be a bit scary for very young children, although they're presented as ordinary super villains in this book. See more artwork on the publisher's site. Pura Belpre Illustrator Award (2014).
Take Me Out to the Yakyu by Aaron Meshon. Atheneum, 2013. Age/interest level: 2-8.
One of my favorite 2013 picture books, this is a colorful celebration of two cultures, two grandparents, and baseball. Using symmetrical text and images, Meshon compares and contrasts an outing to a baseball game with a grandfather: one outing is in America with the American grandfather, and the other is in Japan with the Japanese grandfather. The palette is vibrant and helps cue young readers on cultural differences. Fun to read and also informative, you will learn Japanese words, some tidbits about Japanese culture, and a lot about baseball!
The King of Little Things by Bil Lepp and illustrated by David T. Wenzel. Peachtree, 2013. Age/interest level: 4-8.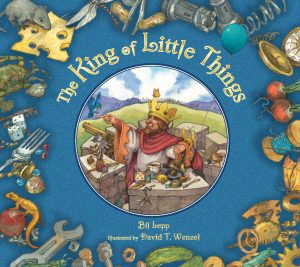 Not necessarily a "diverse" title, this book does fit right in with a lineup of character-building titles (as those first two on our list also do). This is a charming picture book about two kings, one of whom is king over the tiny, little things in life. Incidentally, I discovered a giveaway of this book going on right now! You have until November 28 to enter!
This is just a drop in the bucket! For instance, The Tortoise and the Hare retold/illustrated by Jerry Pinkney also fits in this list, but we just mentioned it in our first wordless book post. Xander's Panda Party by Linda Sue Park and illustrated by Matt Phelan, Brush of the Gods by Lenore Look and illustrated by Meilo So, and The Price of Freedom by Judith and Dennis Fradin also fall into this category. What other titles can you think of (feel free to mention older titles, too!).
Christmas is coming! (Ready or not!!) For those of you who enjoy giving books as Christmas gifts, don't forget to check out our Book Fair. All proceeds from the

Book Fair

will go towards our upcoming site upgrade (which will include a mobile-responsive theme and a more user-friendly interface).
Cover images from publishers' websites (Mandela, Yakyu, Grandma, Words, Little Chick, Nino, King) and goodreads (Martin)

More than 75 books for children and teens, all about islands, oceans, and more. Bonus: get a free hand-drawn reading tracker!
Reading Ahead for You
Reviews and Resources Weekly in Your Inbox