When I was in elementary school it was called "arithmetic," and one of the most terrifying aspects of that class was timed drills—the teacher would give everyone a single page of simple addition, subtraction, multiplication or division problems and we had to fill out as many answers as possible in five minutes.  This always caused a brain freeze and subsequent panic in me, especially after time was called and we swapped papers for grading and I would score the lowest.  (Since then I've comforted myself with the fact that many literary geniuses were hopeless with numbers.)  Arithmetic was not considered a creative subject, but of course it is—its quantifiable character is perfectly compatible with a creative approach, as these books show.  There's no substitute for math drills (much as I hated them), but supplementary treatments like this might help ease the blinding abstractness of it all: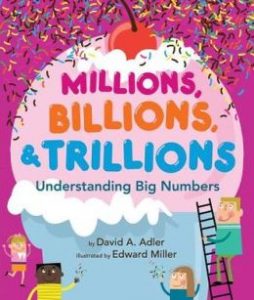 Millions, Billions, and Trillions, by David Adler.  Holiday House, 2013, 32 pages.  Age/interest level: 6-8
"What does one million look like?"  Fill a ¼ cup measure with granulated sugar and pour it out on a piece of black construction paper—that's about one million tiny grains of sugar.  Start counting! Or don't—just take their word for it, because if you tried to count one grain per second without stopping it would take 11 ½ days.  So . . . how about a billion?  If you rounded up 10,000 people, each with an average head of hair, all of you together could total about one billion hairs.  It would take 32 years to count them all at a rate of one per second.  But what about a TRILLION?  You can see where this is going: the kicker, for me is the page about the national debt: "When politicians talk about how much our government spends and how much it owes, it's good to know how much a trillion is."  That's an understatement; how many dollars would it take to send this book to every member of Congress and every department of the administration?
 That's a Possibility! a Book about What Might Happen, by Bruce Goldstone.  Henry Holt,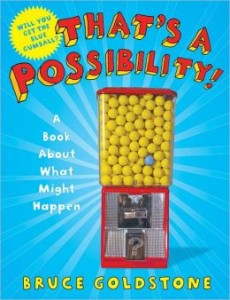 2013, 32 pages.  Age/interest level: 5-8
Statistical language—probability, odds, outcomes, and even permutations—goes over the heads of most adults, not to mention children.  What does it mean that there's a "high probability" of something happening, or do those words even make sense together?  This book is a great way to introduce not only basic statistical language but also statistical ways of thinking to elementary age kids, and chances are they'll even enjoy it.  Starting with possibility ("If something can happen, it's a possibility"), impossibility, and certainty, kids are encouraged to think through the solutions of simple problems where the answer is either apparent in the picture or a matter of common knowledge.  For example, one page shows a flock of pigeons, two white doves and one yellow dove on power lines: "If one of these birds flies away, what color will it probably be?  What colors are possible, but not likely?  What colors are impossible?"  Activity suggestions at the end of the book reinforce the learning, and if you're planning a trip to Vegas, the author includes probability analysis for dice and cards.  Just saying.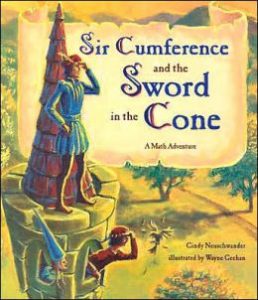 Sir Cumference and the Sword in the Cone, by Cindy Neuschwander, Illustrated by Wayne Geehan.  Charlesbridge, 2003, 32 pages.  Age/interest level: 6-12
"One fine morning, Sir Cumference, Lady Di of Ameter, and their son, Radius, sat eating breakfast in King Arthur's castle."  That opening sentence will give you a taste of the bad puns and leisurely narrative pace of this series of math-concept stories.  Most of them are not about Sir Cumference, despite his prominence in the titles, but about Radius and his peers, specifically his friend Vertex and his cousin Per.  That anomaly aside, these are pleasant little stories that set forth mathematical concepts (mostly geometry) in an entertaining way.  In The Sword in the Cone, the heirless King Arthur has decreed that his successor will be the knight who finds his legendary sword, Edgecalibur, hidden somewhere about the castle.  The clues are a series of odd diagrams and a cryptic rhyme, which Radius and Vertex solve by adding edges and points.  There's enough story to keep younger readers involved and the math challenges are just challenging enoug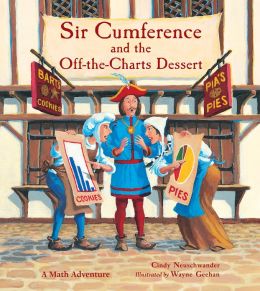 h to engage a reasonably astute fourth-grader. 
The newest title in the series, which I haven't had a chance to look at, is Sir Cumference and the Off-the-Charts Dessert, a problem that involves pie charts and graphs.  Others are The Isle of Imeter (formulas), The great Knight of Angleland (degrees and protractors), The Viking's Map (geographic coordinates), The First Round Table (areas and perimeters), All the King's Tens (decimal grouping), and The Dragon of Pi (pi, obviously).  I can't count for the effectiveness of all of them, but they're worth checking out as entertaining supplements to particular math concepts.
Here's an oldie-but-goodie from Megan: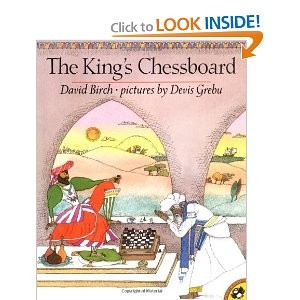 Birch, David.
The King's Chessboard
.  Puffin reprint, 1993, 32 pages.  Age/interest level: 6-up
A king wishes to honor his wise man's faithful service, but the content wise man will only agree to accept a grain of rice. When the king insists on being more generous, the wise man agrees to allow the rice to be doubled each day for sixty-four days, just the number of spaces on the king's chessboard. How much rice will it become? Can the proud king keep up the bargain? A well-told story with an excellent demonstration of exponential growth.
For more math-concept picture books, see "Crazy Numbers."
Support our writers and help keep Redeemed Reader ad-free.