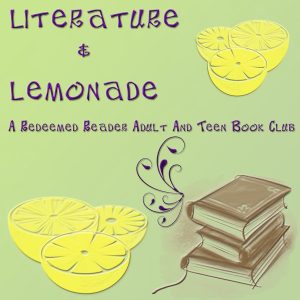 Other Lemonade and Lit posts:  Introduction, Week One: Booked, Week Two: Booked Discussion, Week Three: Beauty, Week Four: Sexuality in Booked, Week Five: Beauty Discussion, Week Six: The Last Thing I Remember,  Week Seven: Klavan Discussion.
Lemonade and Lit:
An Adult-Teen Read Along, Week 4

A DEBATE WORTH HAVING
This week was supposed to be an off weekend for Lemonade and Lit.  But when I got an email last Monday from one of our young readers, Jaquelle, she raised some very good questions about our first book, Booked by Karen Swallow Prior.  The book contained enough sexual references that she felt it unwise to finish reading on her own.  And she was disappointed that Redeemedreader had not done a better job of letting her know what to expect.
We did, of course, put a warning on the Booked introduction post.  But I'm willing to admit my own mistake in not making it prominent enough.  That's a problem that unfortunately crops up from time to time when you're trying something new, like our read along.  But point taken.  Next time, we'll try to do a better job of highlighting books that might have more difficult material that parents will want to check out first.   (I'm going right now to put the caution in bold for readers who find the post later.)
For now, though, we thought it would be a good opportunity to invite Jaquelle to lay out some of her concerns.  It's worth noting that Jaquelle is 15 and a homeschool student from Nova Scotia, Canada.  I've also asked our 18-year-old intern, Abby, to give her own take on why the Booked selection was helpful for her.  Between the two of them, I think they make some very insightful comments, and I hope you'll weigh in on whether you thought the book was appropriate for your teens.  We really do care what you think, and we want to be responsive to your needs in terms of the books we offer for read alongs.
TAKE ONE
Criticism by Jaquelle
I started Booked by Karen Swallow Prior for the Lemonade and Lit Read Along but was unwilling to continue.  Let me start by saying what I liked about Booked, namely, Ms. Prior's obvious love of literature, her knowledge about this subject, and the glimpses of seeing Christ and redemption throughout literature.  That being said, I had two problems with the book.
The first problem I had was laid out in Chapter One and its implications permeated the rest of the book.  Chapter One's title summarizes my disagreement: Read Promiscuously.  Ms. Prior started by clarifying her definition of "promiscuous reading" as, what John Milton encouraged, "indiscriminate, disorderly reading," or reading both bad and good to discern what is good.  Ms. Prior quoted 1 Thessalonians 5:21 as an example.  "Test all things and … hold fast to that which is good."  The reference to this verse is problematic because when you look at the context of 1 Thessalonians 5, Paul is actually talking about testing prophecies or words claimed to be from God.  Books do not fall into this category.  In other letters, Paul does encourage discerning between good and evil, which I wholeheartedly believe can be applied to reading, but I cannot affirm that Paul, or more importantly God, would want me to read lies to know the truth.  I agree that you must discern between bad and good literature, but I disagree that you need to fill your mind with evil to know the truth.  (Philippians 4:8)
The second problem I had was the sexual themes running throughout this book.  I understand that this is Ms. Prior's personal testimony of how through literature God led her to Himself.  However, I did not see how all the sexuality was necessary.  Nothing was overtly graphic, but brief sexual episodes filled the book.  Ms. Prior recounted the night she lost her virginity, discussed rape, was shown homoerotic pictures, and was kissed by a girl, just to name a few.  There were also references to sex and rape in literature (primarily chapters five and seven on Tess of the D'Urbervilles and Gulliver's Travels).
Perhaps an older teen or adult who has read more promiscuously would not have been affected by Booked in the same way that I was.  But as a redeemed reader, I personally was unable to glorify God through the reading of this book and was thus unwilling to finish it.
TAKE TWO
Criticism by Abby
Booked was a breath of fresh air for me.  Karen Swallow Prior's reflections on identity, love, and romance gave me a new and broader perspective, and I immediately wanted to discuss her opinions with my friends.  In fact, it was the mistakes she made, including the sexual ones, and the horrors she encountered, including the porn and the rape, that made this book particularly poignant.
What Prior discussed is a part of reality, a part of the truth of mankind.  Sin and its consequences are very real, and to brush over this is to turn a blind eye to truth.  Christians need to read about sin and about its horrific consequences.  Even the Word of God reveals this.  The entire Bible has examples of sin, including sexual sin, and its real effects.  When Prior decided to be upfront about her own sin and the pain it caused, she revealed clearly how much humans need the grace of God.
People can tell me over and over again that having sex before marriage is wrong, but this statement alone will have a hard time standing up against the barrage of culture telling me that if I would just sleep with a guy then I would be happy.  What does stand up, though, is a knowledge of why God created sex for marriage, and part of this knowledge comes by understanding the consequences and gravity of abusing his creation.  By sharing honestly about her experiences, Prior reveals the consequences of sin in a way I can understand and learn from.
This principles also applies to literature.  The best books are honest books, not because the authors believe in a biblical worldview, but because they talk frankly about the consequences of false philosophies.  They speak with clarity on the subject of lies.  Whether I read books full of modern philosophy, like Camus' The Stranger, or even the latest young adult thriller like The Hunger Games, I see the lies of this world in action.  They only lead to broken lives and false hope.  By understanding this, I can guard my own heart from these falsehoods and I can better interact with people that believe them.  This is the value of reading frank discussions of sin.  It's the value of reading "promiscuously."
Disclaimer: Of course, this argument should never be used to justify reading filth like written porn.  Some books are designed to cause their readers to sin, and these should always be avoided.  Christians should rely constantly on the Holy Spirit to guide them in their reading choices.
If you found this discussion interesting, do check out our podcast on 50 Shades of Gray, as well as our YA Perspective on The Hunger Games.
Many thanks to both Jaquelle and Abby for being willing to take part in this debate!  They have given our readers a lot to think about, and I do pray that the Lord would bring them and us more wisdom and grace through this exercise.
Please follow and like us: