Yesterday's post addressed the general subject of children's Bibles and how to evaluate them for the particular needs of each child and family.  But all that is rather abstract unless we have actual Bibles to evaluate.  Today's list is by no means exhaustive, but I've tried to find worthy examples of the good, the popular, and the what-were-they thinking. Nothing actually stinky, though the Boy's Bible (see below) tries hard.  Even the less-good versions have some value, but when budgets are limited you want to get your money's worth: durable binding and cover, presentation that's respectful of the word but child-friendly, and study helps that really help.
Value ratings are from 1 (don't bother) to 5 (excellent: substantive and age-appropriate).
KJV Kids' Study Bible.  Zonderkidz, 1994.  For ages 8-12.
The colorful Noah's Ark cover (in the edition I reviewed) will appeal to the lower ages of this range but 12-year-olds may think it's babyish–other covers are available, of course.  Type is 9-10 point.  As the title implies, there are lots of full-color pictures interleaved throughout the text.  One-page chapter introductions include the author, purpose, setting, historical time, and main stories or themes.  In-text features include key verses as well as Do you Know? Bible facts and clarifications, Let's Live It! activities, and sidebars about Life in Bible Times.  These all seem helpful, especially in frustrating books like Leviticus.  The activities are indexed in the back, along with a "Dictionary/Concordance" (a lot of children's Bibles have these; they just look like dictionaries to me).  The downside for some may be the King James translation: a 10th grade reading level in a Bible for kids may not make a lot of sense, but if the KJV is your version of choice, this works.
NOTE: Boardman and Holman also have a KJV Illustrated Bible for Kids but I haven't had a chance to look at it.
NKJV Early Readers Bible. Thomas Nelson, 2006, 1664.  For ages 8-12.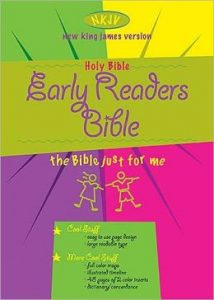 Red-letter with 9-10 point font, two columns.  It's attractive but not flashy: no full-color illustrations, but I like the supplementary material of this Bible the best of any I've looked at.  The preface pages address How to Study the Bible, a Brief History of the Bible, short paragraph introductions to all the books, where to find common topics, a chronology and several Bible reading plans, plus one 1-year plan.  I especially like the Character-building from Proverbs page.  Two-color inserts throughout features maps, family trees, expositions on such topics as the Tower of Babel and life in Bible times, "People" (nations) of the Old Testament, timelines, charts (Kings, prophets, etc.), quizzes, How to Pray, and a very cool comparison of Genesis and Revelation.  Another feature I haven't seen anywhere else: stars in the margin indicate prophesies of Jesus: white stars are promises given, black stars are promises fulfilled.  The dictionary and concordance are separate, and it's a real concordance, not just a list of subjects.  It's a great study Bible for kids, as long as they can handle the translation.
Value: 5 (Excellent, age-appropriate study helps, sound translation)
ESV Grow! Bible.  Crossway, 2011, 1600 pages.   For ages 8-12.
Available in a choice of colors and cover designs, two-column, 9.5 point type.  The outstanding feature of Grow! is the "Cross Connection."  Forty-five of them scattered through the text—brief expositions of the OT messianic prophesies and their fulfillment in Christ.  This helps create continuity between the testaments. Other in-text features include 4-U applications, 5 W questions and answers (Who-What-When-Why-Where) about Bible content, charts (e.g., days of creation, parables), and each petition of the Lord's Prayer treated separately.  Preface and appendix materials include the family trees of Adam-Jacob, where to find references for personal situations, but also theological questions and topical issues, maps, diagrams, and glossary.  A page on the Ten Commandments titled "You Shall" contrasts the positive side of each Commandment that the negative implies.
Value: 4.5  (More than adequate, but I like the features of other ESV Bibles better.)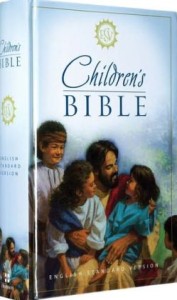 ESV Children's Bible.  Crossway, 2008, 1648 pages.   For ages 6-10.
Geared toward a slightly young age group than the ESV Grow!, this Bible has verse and chapter numbers in red to make them easier to find, as well as more full-color illustrations (over 200) than any other children's Bible I've seen.  Introductory material includes What the Bible Says About Itself (scripture passages) and How to Use the Bible, with information on how the Bible is arranged and how to look up a passage.  Each of the pictures is captioned with a key verse and often a verse from another part of scripture that supplements and expands the teaching.  For instance, the picture of the serpent tempting Eve quotes not only Genesis 3:4 but also John 8:44: "He was a murder from the beginning, and does not stand in the truth because there is no truth in him."  This is a direct, graphic way to show the unity of scripture.  The appendix includes age-appropriate theological notes on such subjects as God's promises, the Gospel, salvation, how to Study the Bible, how to pray, and tips on memorization with 48 "Fighter Verses" to memorize.  One complaint about this Bible is that the pages are thinner than some and hard to turn.  Otherwise it seems like a great choice for younger kids.  Also note Betsy's comment below about the alternative cover, more acceptable to the older children in this age range.
Value: 5  (Particularly for younger ages and visually-oriented children)
The ESV Seek and Find Bible.  Crossway, 2010, 1888 pages.  For ages 5-up.
A great choice for grades 4-6 (in my opinion), and Emily wrote about this last year.  So I'm turning it over to her for this one.
Value: 5  (Very good for learning habits of Bible study)
The HCSB Illustrated Study Bible for Kids.  Boardman and Holman, 2007, 1104 pages.  For ages 7-13.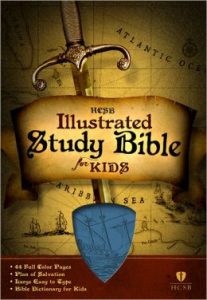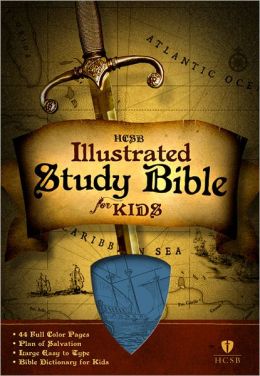 The Holman Christian Standard Bible is a new translation to me, but I like what I see so far.  This is the only HCSB children's version I've looked at, and I like it too.  Available in a variety of covers to appeal to both boys and girls, it's a good all-around study Bible for a wide age group, from beginning readers to 'tweeners.  In spite of the title, there aren't that many illustrations: 44 full-color pictures, including maps.  The in-text features are all relevant to the passage—for instance, maps are included with the text rather than grouped all together in the back.  Other helpful in-text aids include charts (e.g., family trees, names of God), diagrams, lists, a pictorial life of Jesus, "How-to" sections on studying the Bible and developing private devotional time.  There are no repeating features, like 5-W questions, activities, and applications.  Book introductions are grouped: all the books of Law, Poetry, Major Prophets, etc., with a few lines describing each book.  Appendices include types and examples of prayer, an expanded list of weights and measure (sure to be of interest to those qualitative kids), a simplified harmony of the gospels, and topical concordance.  There's also a checklist of Bible skills for three age groups, from "I can locate the two parts of the Bible" to "I can apply truths from the Bible to my personal life."
Value: 5  (Excellent study helps and an accurate translation at a 6th to 7th-grade reading level)
Adventure Bible, NIV.  Zondervan, 2011, 1459 pages.  For ages 6-10.
The best-selling Bible for kids, hands down.  Physical features include two-column format, standard type (8-9 point), slightly thicker pages and a safari theme that incorporates brown type for the major text and green for headings and chapter and verse numbers.  Each book is introduced in a 5-W format (Who wrote it, What it's about, etc.).  In-text features include Words to Treasure (memory verses), Did You Know? (definitions, facts, common questions about the content or doctrine), Live It! (applications), People in Bible Times, and Life in Bible Times.  Full-color inserts include lists of prophets, Bible kids, Life of Jesus, verse applications, and so on.  The features are indexed in the Appendix, which also includes the ever-present Dictionary/Concordance, Maps, and an activities index.  The Adventure Bible is the ur-text for almost all the NIV children's versions, and if you want a closer look you can find it just about anywhere.
Value: 3.5 (Adequate for basic understanding from an broadly evangelical viewpoint)
Adventure Bible for Early Readers, NIrV.  Zonderkidz, 2008, 1536 pages.  For ages 5-10.
The NIrV, written at a third-grade level, is an acceptable translation for kids who are a little slower in learning to read (or learning to enjoy reading), but you don't want to do a lot of memorizing out of it.  Not quite as many features as the NIV Adventure, and the applications are geared down a bit for a younger audience.
Value: 3 (Good enough, but you could probably do better)
Kid's Devotional Bible, NIrV.  Zonderkidz, 2006, 1664 pages.  For ages 6-9.
The 8-10 point font and easy verse numberings make this a better introduction to Bible reading than some of the trendier editions of the NIrV (like the new Veggie Tales Bible); also there's no distracting text clutter.  Half-page introductions give a brief overview of each book, and short quizzes at the end of most books help recap what the reader has learned.  The distinctive feature of this Bible is indicated in the title.  There's a short devotional for each weekday, with a couple of verses to look up and a question to think about.  A one-page devotion for each weekend includes a short reading, with two or three thought questions, simple activities, and a checkbox.  Some have cross-references.  Many of these devotions are helpful, but some deal with "tough issues" like divorce or bullying.  Parents should decide for themselves whether their six-to-nine year-olds need to be thinking about (burdened with?) these things. The illustrations are simple line-drawings of kids involved in sports and other everyday activities; hard to see what they have to do with anything.  It's simple, to the point, and kid-friendly; geared more toward application than objective Bible knowledge.
Value: 3.5 (Does what it sets out to do, but could be more visually appealing.)
NOTE: One thing I've noticed about the two early reader versions (NIrV and ICB) that might be worth mentioning here.  They are actually more explicit about sex than the adult versions.  I mean that, instead of figurative expressions like "knew" or "lay with," ICB commonly uses the clunky and clinical, "had sexual relations with."  The NIrV varies: for lawful relations between husband and wife it says "made love to."  For the other kind, it's usually "had sex with."  I don't know what they could or should have used otherwise, but let the parent be aware let you get awkward questions from your five-year-old.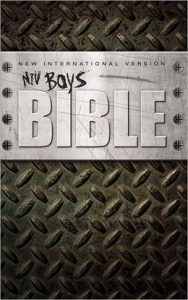 NIV Boys Bible.  Zonderkidz, 2012, 1504 pages.  For ages 9-13.
Layout is double-column, with blue sans-serif type.  The in-text features are similar to the Adventure Bible, geared up a couple of grade-levels and gender-specific: Words to Live by (memory verses), Check It Out (cool facts about the Bible and Bible times), Makin' It Real (relating stories, characters and themes to here and now), What's the Big Deal? ("who's who, what's what, and how they connect to God."), and Grossology ("if it oozes, bleeds, smells, or makes your spine tingle, it's in the Bible").  That last signature feature is what sets the Boys Bible apart, naturally.  If you're wondering what qualifies as "gross," look up Ex. 7:18, Judges 5:26, I Sam. 6:5, I Chron. 10:10, Job 2:7-8, Mark 5:3.  There are a lot more.  There's no question that to a lot of boys, gross=cool, but this strikes me as trying too hard to reach them where they are.
Value: 3 (Lots of good stuff, but marred by excessive pandering)
NIV Faithgirlz! Bible.  Zonderkidz, 2012, 1504 page.  For ages 8-13.
If the boys have one, the girls gotta have one, too.  Faithgirlz! is available in a variety of covers and variations of pink.  It capitalizes on the verbal leanings of most girls by scattering What Happens Next? And Dream Girl features through the text, both of which to encourage the readers to write their own thoughts.  Features are written by Nancy Rue, and I find them uneven: some are thoughtful and useful while others fall too much on the gushy side (e.g., "God created everything, but his most special creation . . . is you").  I lean away from this over-personalized approach to scripture: it's true that God speaks to us personally through his word, but it's also for everybody, everywhere.
Value: 3 (Same basic complaint as the Boy's Bible)
Just a few more:
The NLV One-Year Bible for Children, by Gilbert Beers.  Tyndale, 2001, 432 pages.  For ages 6-8.
The scope of this "Bible" is the historical books plus Psalms and some epistles, so it's not comprehensive.  All the readings are retellings, in effect a paraphrase of a paraphrase (the New Living Version), and that's another problem, because they may reflect more on the author than the original scripture.  I include it here mainly as an example of the inductive study method, rare for a children's Bible or storybook. (Kay Arthur has written a number of topical and book-based inductive Bible studies for kids, but I'm not personally familiar with them.)  Each reading ends with Remember questions (observation), Discover questions (interpretation), and one Apply (application) question, adding up to an excellent all-purpose approach to studying the Bible.  It might be worthwhile to have a copy of the One-Year Bible, just for the questions, which can then be applied to reading the actual text.  The pictures are nice, too.
Value 2.5 (Limited; mostly supplementary value)
NLT Hands-on Bible, Tyndale for Kids, 2010, 1440 pages.  For ages 6-12.
Busy, busy, busy!  It's like a never-ending Vacation Bible School between two covers.  The chapter introductions alone are two pages long, each ending with a timeline (nice) and Jesus connection (nice), but some pages are so loaded with cartoony illustrations and activities the text is hard to find.  Not good for a study Bible—unless you have kids who like to stand on their heads and build rope swings while studying.  I also do not like the goofy cartoons of Bible characters, especially Jesus.  But if you can find one at a reasonable price it might be worthwhile for the activities.
Value: 2  (Supplementary use only)
ICB Cupcake Bible.  Thomas Nelson, 2013, 1152 pages.  For ages 5-10.
What—no recipes!?  The cupcake-ness of this edition is limited to the cover, which is very pretty: imitation leather with a pastel cupcake.  Flashy covers seem to be a signature flourish for this translation (see the ICB Sequin Bible), the various editions of which are generally straightforward and unembellished on the inside.  There are two sizes of Cupcakes, one 9 x 6 and another 8 x 5.  Since one advantage of the International Children's Bible is a slightly larger font size, the larger edition is preferred.  Twenty-four color inserts provide a place to enter My Favorite Bible Verses, as well as Names of God, Bible Kids, How Do I Pray? How Do I Know Jesus Loves Me? and a Bible Timeline.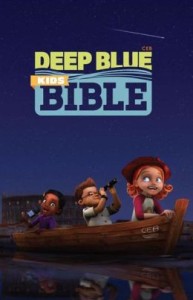 Value: 2.5 (Can't see it lasting more than a couple of years)
The Deep Blue Kids Bible (CEV), 2012, Abingdon Press, 1526 pages.  For ages 8-12.
I wasn't even going to mention this one, but it's fairly popular and if you go Bible shopping there's a good chance you'll see it on display shelves.  Three main reasons I don't like it.  First: The Common English Translation (CEV) is a product of translators from mainline denominations (United Methodist, Prebyterian Church USA, Disciples of Christ, etc.) and is gender-inclusive to the point of substituting The Human One for Son of Man.  It also renders OT messianic passages with no regard for the Messiah—e.g., translating virgin as young woman in Isaiah 7:14.   Second: even though the CEV is geared to a fifth-grade reading level, the print is very small, making it tough for beginners.  Third: too many in-text features clutter up the text, and too many of them reflect a dispensational/liberal slant.  For example: Why is so much blood sacrifice required in the Old Testament? Answer: To show the seriousness of sin.  No reference to the Lamb of God or Hebrews 9:22.   Three strikes, it's out!
For our previous posts in this series, go to Toddling into the Word, The Best Bible Translation, and Choosing Your Child's First Bible. And then you can follow all the links!
And . . . the journey continues.  For later Bible reviews, simply type "Bible Reviews" in the search box, or search titles under "The Good Book Heading" on the book review page.
More than 75 books for children and teens, all about islands, oceans, and more. Bonus: get a free hand-drawn reading tracker!
Reading Ahead for You
Reviews and Resources Weekly in Your Inbox