*The HCSB Illustrated Study Bible for Kids.  Boardman and Holman, 2007, 1104 pages. 
Reading Level: Middle Grades, ages 10-12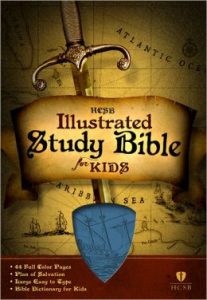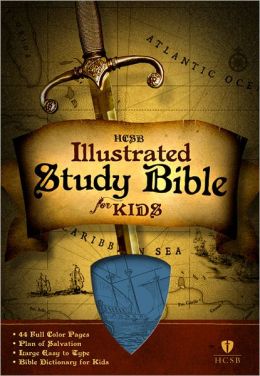 Recommended for: ages 10-14
Bottom Line: The HCSB Illustrated Study Bible for Kids offers a reliable translation and interesting study features appropriate to 4th-6th-graders.
The Holman Christian Standard Bible (HCSB) is one of the more recent translations, but it stands up well against the ESV (see the post on Bible translations for more).  Holman hasn't produced too many children's versions of the HCSB, or not yet, but this Illustrated Study Bible for Kids is a nice balance of seriousness and kid-appeal.  Available in a variety of covers to appeal to both boys and girls, it's a good all-around study Bible for a wide age group, from beginning readers to 'tweeners.  In spite of the title, there aren't that many illustrations: 44 full-color pictures, including maps.  The in-text features are all relevant to the passage—for instance, maps are included with the text rather than grouped all together in the back.  Other helpful in-text aids include charts (e.g., family trees, names of God), diagrams, lists, a pictorial life of Jesus, "How-to" sections on studying the Bible and developing private devotional time.  There are no repeating features, like 5-W questions, activities, and applications, making this more of a study than a devotional Bible (for thoughts on the difference between these two, see "Choosing Your Children's First REAL Bible").
Book introductions are grouped: all the books of Law, Poetry, Major Prophets, etc., with a few lines describing each book.  This is an unusual arrangement, but I like it–it seems like a better way to get the sweep of the Bible story, rather than chopping it up in segments attached to each book.   Appendices include types and examples of prayer, an expanded list of weights and measure (going beyond the standard two-column list in most Bibles, and sure to be of interest to those qualitative kids), a simplified harmony of the gospels, and a topical concordance.  There's also a checklist of Bible skills for three age groups, from "I can locate the two parts of the Bible" to "I can apply truths from the Bible to my personal life."  Parent's may find this helpful for building a structured approach to Bible study.
Value: 5  (out of 5)

Categories: Bibles and Bible Stories, Christian, Starred Review, Middle Grades
More than 75 books for children and teens, all about islands, oceans, and more. Bonus: get a free hand-drawn reading tracker!
Reading Ahead for You
Reviews and Resources Weekly in Your Inbox