My Lucky Day by Keiko Kasza. Puffin, 2005. 32 pages.
Reading Level: Picture Books, ages 4-8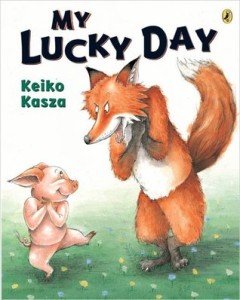 When a fat pig shows up at a hungry fox's door, it's dinnertime. The end.
No—wait! First the pig needs to be cleaned up, fattened up with spaghetti and chocolate chip cookies, and tenderized with a good massage. Poor Mr. Fox is determined to have his pork roast, but it is not until the last page that the reader's expectations are fully turned on end. Great trickster tale with fun illustrations.
Cautions: none
Overall Rating: 4 (out of 5)
Worldview Rating: 4
Artistic Rating: 4
Categories: Picture Books, 4 stars and up
Cover image from Goodreads

Please follow and like us: