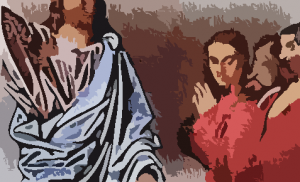 MESSIAH:  The Road to Jerusalem

?Life is good for the disciples and the people following Jesus this week.  Christ is healing the sick, online raising the dead, feeding the hungry, and even commanding the wind and waves.  It's about time to coast into Jerusalem and shake up the joint, time for Christ to take up His scepter and start the party, right?  Hardly.  This week amidst the awe and excitement, Jesus shares some news with His disciples.  It's time for the Son of Man to take up His cross, suffer and die.  Surely, Jesus couldn't really mean it, could He?  Surely there must be some other way….
Study Guides:
Make-Your-Own-Story-Bible Resources:
For last week's study, here's Challenge 38.  Or just see the category link with all the previous Bible Challenges.
Thanks also to our artist, Carl Dean White, for his lovely and informative art this week!  Be sure to see his other drawings in this series, as well as his website.
More than 75 books for children and teens, all about islands, oceans, and more. Bonus: get a free hand-drawn reading tracker!
Reading Ahead for You
Reviews and Resources Weekly in Your Inbox